Swiss Airlines executive said "Muslim" in-flight meals can be used to profile passengers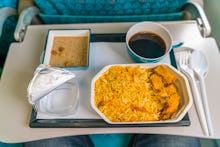 Apparently, pre-ordering an in-flight meal can be used now to collect data on certain passengers.
The Middle East Eye (MEE), an online news publication, reported on Wednesday that a Swiss International Air Lines executive said pre-ordered inflight meals could be used to pre-screen passengers.
Marina Ripa-Braescu, a facilitation and security manager for the airline company, told an audience at Borderpol Global, a border security conference in Hungary, that government authorities could use information provided from these in-flight meals to profile passengers entering a country before arriving. Borderpol, the conference organizers, are sponsored by several private security firms and state institutions.
"For example, if they order a Muslim or kosher or vegetarian meal, you already start to know a little bit about that person," Ripa-Braescu told the audience, according to MME.
The airline company provides special meals for those of the Muslim, Hindu and Jewish faith who have special diets. 
Despite their executive's comments, Swiss International Air Lines said in a tweet that they are not permitted to gather data nor will they provide it to authorities on grounds of religion, race, health or political opinion. The airline company did not make any specific response to Ripa-Braescu's comment suggesting the profiling tactic.
"[Swiss International] airlines are not allowed and will never transmit data which may convey religion, health, political opinion to authorities," it tweeted.
Currently, according to the MEE, commercial airline companies are required to provide governments with massive data about a passenger's name, gender, country of origin, forms of payment used and passport information. If they don't, they are given a hefty fine for non-compliance. Information about a passenger's religious background is not a requirement.
Ripa-Braescu's comment comes on the heels of international concern of a Muslim ban and a Muslim registry in the United States. It also shines light on an ongoing trend of airline companies removing Muslim or dark-skinned passengers from planes out of pure racial or religious discrimination.
While the Swiss Air Lines stated they never intend to send data involving a passenger's information to government authorities, Ripa-Braescu alluded to the fact that profiling Muslims doesn't take invasive mass surveillance, informants or a massive and intensive database. It could be as easy as monitoring and tracking what they eat.