Here are all the DC Comics movies and TV shows coming in 2017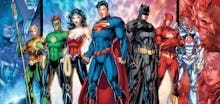 There has been no genre over the last few years more prolific in film and television than comic book adaptations. They're simply huge. There were four Marvel films (Deadpool, Captain America: Winter Solider, X-Men: Apocalypse and Doctor Strange) and two DC films (Batman V Superman and Suicide Squad) in 2016 alone, together grossing over $1.8 billion domestically. 
DC comics has been particularly strong on television, with eight shows airing in 2016, including Arrow, The Flash, Legends of Tomorrow, Supergirl, iZombie, Gotham, Lucifer and Preacher. Of course, four of those series exist as part of the shared Arrowverse continuity on The CW. 
Marvel is not the only comic giant who is in for a big 2017. Even with an already strong presence in film and television, DC Comic properties are in for a huge year as well. Here are all the new releases you can expect from DC Comics in 2017. 
Justice League Dark (Jan. 24 - Digital)
While DC has had some trouble launching the live-action DC Extended Universe to the critical acclaim they likely hoped, there has been no such problem in animation. Since the 2007 release of Superman: Doomsday, Warner Bros. has released over a dozen animated films based on its library of characters (most of the films are PG-13).
The next film to be released is the R-rated Justice League Dark, which features the DC team of the same name, alongside characters like Batman, Superman and Wonder Woman. Matt Ryan will voice John Constantine, the same character he played in the short-lived NBC series based on the character. 
Powerless (Feb. 2) 
Ever wonder what it would be like to be just a normal person in a world full of powered heroes? Well, that's the story that will be told in NBC's half-hour sitcom, Powerless, based off characters in the DC Universe. 
Powerless stars Vanessa Hudgens as Emily Locke, a new employee at a subsidiary of Wayne Enterprises (yup, Batman's company). The official synopsis from NBC is as follows: 
Emily Locke lands her dream job as Director of Research and Development for Wayne Security in Charm City, home to super heroes and villains and citizens fed up with the collateral damage of their constant fighting. Full of confidence and big ideas, Emily quickly learns that her aspirations far exceed those of her new boss and officemates, so it will be up to her to lead the team toward their full potential and the realization that you don't need superpowers to be a hero.
The LEGO Batman Movie (Feb. 10)
Following the critical acclaim and financial success of The LEGO Movie, Warner Bros. was quick to announce a spin-off featuring the film's most popular character: Batman. Will Arnett reprises his role as the Dark Knight, with The LEGO Batman Movie adding Zach Galifianakis as The Joker, Micahel Cera as Robin and Rosario Dawson ad Barbara Gordon/Batgirl. 
It's great to be Batman, though maybe a bit lonely...
Wonder Woman (June. 2)
The first three films in the DC Extended Universe — Man of Steel, Batman V Superman and Suicide Squad — remain polarizing among critics, but it is hard to argue against the franchise's financial success, as the three films have combined for $2.3 billion globally. The next film to be released in the DCEU is Wonder Woman, and there is reason to be optimistic. 
While Batman V Superman was generally dismissed by critics, the consensus was that Gal Gadot and Ben Affleck excelled as Wonder Woman and Batman, respectively. Gal Gadot will reprise her role as the Amazon princess in what will be the first major live-action solo film for the character. Further, Wonder Woman should be more contained, meaning it will not be burdened by the same world building as its predecessors.
If the trailer is any indication, Wonder Woman could be the best DCEU film yet.
Justice League (Nov. 17)
Much like Marvel's The Avengers, the Justice League is the reason we have shared cinematic universes. While Warner Bros. may have rushed to the big team-up, Justice League will still follow four prior DCEU films, including major outings from their Trinity (Batman, Superman and Wonder Woman). 
Rather than introduce the main team members in solo films, like Marvel, DC used 2016's Batman V Superman to briefly set up characters like Aquaman, Flash and Cyborg. One of the film's major complaints was that too much was crammed into one movie, resulting in an uneven narrative. Justice League should not have that problem. 
With most of the major players already introduced in previous movies, Justice League will require less world-building, and should be able to step into the action rather quickly. Further, since Batman V Superman, Ben Affleck and comic legend, Geoff Johns, have been elevated to executive producers of Justice League, suggesting there will be less flaws with the additional creative oversight. 
Teen Titans: The Judas Contract (TBD)
At San Diego Comic-Con Warner Bros. Animation announced that several DC animated films would arrive sometime in 2017. We now know that one of them, Justice League Dark (mentioned above) will arrive in just over a month. 
Though there has been no announcements since, fans were also told to expect an animated adaptation of The Judas Contract sometime in Spring. The film would be the second DC Universe animated original movie to feature the Teen Titans, after Justice League vs. Teen Titans. 
Batman and Harley Quinn (TBD)
Along with the Warner Bros. announcement that Teen Titans: The Judas Contract was in the pipeline, the studio announced that animation legend, Bruce Timm, would be working on a Batman and Harley Quinn film set for a summer premiere. 
The film makes a whole let of sense given Quinn's immense popularity following Margot Robbie's portrayal in Suicide Squad. Not much is known about the project other than it would be an original story. The good news, though, is nobody knows Harley Quinn better than one of her co-creators, Bruce Timm. 
Television projects in the pipeline
If it sounds like 2017 is going to be a huge year for DC comics, you're right — and it may get even bigger. Along with the previously aforementioned projects, there are several television series based on DC properties in the pipeline. While it is unknown whether they will premiere in time for the 2017-2018 television season, they have all been given pilot orders or commitments, so it certainly is possible. 
Scalped (WGN America)
The Hollywood Reporter announced in March that WGN America had ordered to pilot an adaptation of the comic series, Scalped, with Geoff Johns attached as an executive producer. 
Krypton (Syfy)
Syfy ordered a pilot for Krypton in May, a prequel to the stories featuring Superman, taking place on the doomed planet of the same name. The series is being developed by David S. Goyer, and will predominately feature Superman's grandfather.
Black Lightening (Fox)
If anyone thought Greg Berlanti — the man behind Supergirl, The Flash, Arrow and Legends of Tomorrow — did not have enough DC Comics cred, think again. A few months ago, Deadline reported that Fox made a pilot commitment on Berlanti's Black Lightening, based on the comic character of the same name. 
Should the show make it to series, that would give Berlanti five DC Comics properties on two networks. It will also be Fox's third DC comics property, joining Gotham and Lucifer. 
2017 is looking up!