'Paris Is Burning' is now officially on National Film Registry where it belongs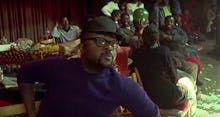 Paris Is Burning, like "reading," is fundamental. 
Legendary queer film Paris Is Burning is now officially one of the most important films in cinema history. Yesterday, the Library of Congress announced that the film, an exploration of the lives of the queer black and Latino-led underground ball culture of late 1980s New York, will be inducted into the National Film Registry and preserved as a part of American film history. 
The registry is a list of movies considered essential to American cinematic history. Every year, 25 more movies are added to the 700-film-long list. Films like The Lion King and Funny Girl were also added this year.
In a world where LGBTQ literature dominates lists of banned books, having the cinematic quality and the cultural influence of Paris is Burning cemented by the nation's oldest cultural institution is a no-qualifications win. The film's inclusion serves as a remind that queer people of color are not only a part of American culture, but that we've been influencing it for decades. 
The film's director, Jennie Livingston, who identifies as genderqueer, but who is considered a "woman filmmaker" by the registry, said in a statement provided to Mic that she is happy to be inducted for a film that "[tells] the story of a subculture that has lots to tell people at the center (including mainstream LGBT people) and examines correspondences between class, race, gender, and how we construct identity." 
Paris Is Burning, which turned 26 years old this year, confronts many of the same issues that young queer people of color still deal with today. The film's colorful cast of memorable queens are economically disenfranchised, relying on each other for social support, and defy gender norms despite pressures to conform. The film eventually became the underpinning for an entire academic argument, from philosopher Judith Butler, as to what "gender" actually means. 
Burning's fingerprints remain all over our modern notions of gender. From "carefree black boys" who transgress gender norms to the proliferation of drag culture on Instagram, Burning serves as a blueprint for modern times. 
In the world of RuPaul's Drag Race, Burning doesn't feel old, but fresh as ever. Burning remains "Exhibit A" when it comes to the slow crawl of pop culture from the society's margins to its center. Clad in colorful '80s patterns, the queens use slang that took decades to trickle down into the mainstream. When Phaedra Parks throws shade, Pepper LaBeija lives on. 
In that sense, Paris Is Burning anticipated a reality that has become hyper-escalated in 2016. From "yaaass" to "realness" to "shade," our lexicon is a gift from these queens, many of whom never saw a dime from their immense mark on culture. That reality continues today, with black youth-seized mainstream culture by coining phrases like "fleek" on Vine without ever seeing the dividends. 
While people argue over whether identity politics is divisive, Burning asserts the power of creating identity-based communities. The characters in the film had much to survive: racism, homophobia, economic insecurity. Behind all this was the AIDS epidemic, which decimated queer communities and communities of color in New York City. But, Paris Is Burning is, overall, a joyous film that celebrates queer life and shows the strength-in-numbers survival strategy queer people of color have adopted throughout history. 
Burning landed a spot on the registry in the same year that Moonlight has prompted a conversation around whether the society we live in a safe one for queer black youth. 
"I remember my dad saying you have three strikes against you in this world," one gay black ball-goer says in the movie's first piece of dialogue. "Every black man has two, that they're just black and they're male. But you're black and you're male and you're gay, you're going to have a hard fucking time."  
Burning, unfortunately, reminds us that living an intersectional life will always be more difficult. The stigmas and challenges that queer youth face are still with us, getting in the way of the chance to flourish. 
Paris Is Burning has spoken to us for 25 years and hasn't run out of things to say. Like Pepper LaBeija, it has aged gracefully. As LaBeija would say, "Ha! Suffer!"