When will 'Younger' season 4 premiere?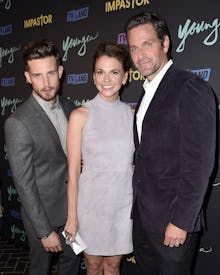 Season three of Younger ended on a tense, ambiguous note. It's inevitable, three seasons in, that Liza Miller (Sutton Foster) will have to reveal her big secret to more and more people, and the last minutes of "Get Real" show her doing just that — finally telling her co-worker and friend Kelsey Peters (Hilary Duff) her true age. Unfortunately, the episode ended before we got her reaction, which means we'll have to wait until season four — which has yet to get a release date — to find out how Kelsey feels about Liza's giant lie. 
The final back-to-back episodes of season three aired on Dec. 14, but it was way back in June — before the TV Land series premiered its latest season — that it was picked up for another. Based on the way Younger has been released so far, every six months (the first season ended in June and the second started up in January; the second ended March and the third started in September), it looks as though we can expect the fourth season to premiere sometime in early summer. One thing we do know for sure: It will come back in 2017.
Season three ending
Central to the entire show is the relationship between Liza and the much younger Josh (Nico Tortorella). However, their relationship heads south when, in the finale, Josh, who wants to propose to Liza, sees her kissing her boss, Charles. Ultimately she decides she wants to be with Josh, but, the finale doesn't reveal if its too late for the couple, or who Lisa will be with next season.
"There's part of me that really would love to see Liza on her own for a little bit," Foster told Entertainment Weekly after the episode aired. "So much of her storyline the past two seasons has revolved around guys, and I think it could be really interesting to see her single for a little while."
In terms of Kelsey, it's going to be interesting to see how she reacts to Liza's big reveal. In season three, Liza was being blackmailed by a young author for a book deal and signed her under Kelsey's name. At some point, Liza just had to tell her that she's not the twentysomething she claimed to be, but in her 40s. 
"I think she's going to freak out. The season ended with all of us not really in as tight of a bond as we normally are, so I think it's a pretty big struggle," Duff told Variety. "Now that the secret is going to be out, I don't know how much Kelsey will go along with it in the office and put her work at risk for Liza's life."
Stay tuned to find out what happens between Liza, Josh, Charles and Kelsey in season four.