Does 'Super Mario Run' use data? Nintendo's app might demolish your cell plan.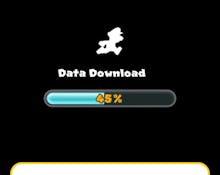 After an excruciating, hours-long wait, the Super Mario Run release date is finally upon us. Even though Nintendo's initial dive into mobile gaming is a good one gameplay wise, the app comes with a huge caveat: Super Mario Run players are required to play while connected to the internet. But not only is playing the game in Airplane Mode impossible, many users are reporting that Super Mario Run siphons high levels of data. 
9to5Mac and others speculate that Nintendo requires the app to be connected to the internet to prevent piracy of the game — even though an occasional check could alleviate this without pissing off users as much. Why not have Super Mario Run ping Nintendo servers once a day, prioritizing moments when you're on Wi-Fi? But that's another debate for another day.
How much data does Super Mario Run use?
The game itself is a 173MB download from Apple's App Store. Making sure to grab Super Mario Run over Wi-Fi is the easy part. The harder part is playing the game away from Wi-Fi without into too much of your allotted cellular data for the month.
When you fire up Super Mario Run for the first time, you're immediately presented with a data download. Make sure your device is connected to Wi-Fi for this initial download! If not, you may end up like these Mario Run gamers:
With the initial download in Super Mario Run complete, the game used relatively little of our data. Playing the initial three levels for five minutes used up 3.2MB. Firing up the first level over cellular LTE data added 3.1MB to Super Mario Run's overall count, and going between the levels afterward only used 0.1MB. 
After downloading the game, Super Mario Run's first in-game download happens almost right away. If you're worried about destroying your data plan, get this download done early. If you know you want to spend $9.99 on Super Mario Run, do that while connected to Wi-Fi, as well.
Super Mario Run Data: How to ensure your phone plan isn't left in shambles
As mentioned, make sure that you've fired up the game and done the initial level download over Wi-Fi right after you download the app. We mention this again because, for the data plan-conscious, playing Super Mario Run will eat into your data one way or another — so you may as well reduce the damage as much as you can from the outset.
Unless Nintendo decides to give in to iOS players' demands and allow them to play Super Mario Run without an internet connection, there's no way to play on the go without using at least some data. The only option to reduce your data usage during your travels is to take advantage of nearby hotspots.
More Super Mario Run news and updates
If you want to know more about Super Mario Run, walk calmly towards Mic's latest coverage, like our review of the demo, an explanation for why the game isn't free, early predictions about whether Nintendo's iPhone-first approach is helping or hurting its chances of success and a list of Android games to play while you wait.