The healthy slow cooker recipes that'll start your year on a high note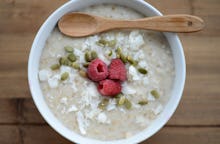 New Year's resolutions or not, the beginning of the year is the perfect time to amp up your healthy eating habits. And when the cold weather sets in, the time is ripe to break out the slow cooker. 
These set-and-forget recipes cook up hearty, healthy meals while you're busy living your life. If you don't yet have a programmable Crockpot, get one stat, so you can set your cook times and keep your food warm while you're away.
These 14 healthy slow cooker recipes will help start of 2017 on a high note!
Slow cooker creamy coconut steel cut oats
Get a full eight hours of sleep (or more!) while these healthy oats get creamy in your slow cooker. Get the recipe here.
The best detox Crockpot lentil soup
If you want to load up on veggies and legumes in one super tasty bowl, this crockpot lentil soup has you covered. Get the recipe here.
Slow cooker tomato, kale and quinoa soup
Anything with kale and quinoa is healthy right? Well, this veggie-packed soup certainly is! Get the recipe here.
Slow cooker tomato and mozzarella frittata
Start a busy morning with a healthy breakfast — cook this frittata on low for an hour and a half while you get ready, and finish your morning routine with a freshly cooked egg dish. Get the recipe here.
Chickpea curry in a slow cooker
This veggie-packed crockpot meal can be served over brown rice or another whole grain for an easy healthy meal. Get the recipe here.
Crockpot spaghetti squash lasagna bolognese 
Lighten up your mid-winter lasagna cravings with this squash-based saucy dish that cooks all in one slow cooker all day long. Get the recipe here. 
Mushroom bourguignon
This vegetarian riff on the classic beef dish can be made stovetop or in a slow cooker over a few hours, perfect for a lazy Sunday. Get the recipe here.
Slow cooker bone broth
Use leftover meat bones or grab a package of bones from your butcher to make this broth that's great to sip on its own or useful as a stock in an endless amount of winter recipes. Get the recipe here. 
Slow cooker pumpkin enchiladas
Just roll all the ingredients together, set your slow cooker for all day and you'll come home to a fresh Mexican meal. Get the recipe here.
Slow cooker Korean beef
This beef is so tender and flavorful, it will easily become your new winter go-to. Add in some veggies for added nutrition and serve it over brown rice or grains. Get the recipe here.
Slow cooker chicken shawarma
Chicken thighs braise in yogurt all day to make them tender and ready to be wrapped in pita with crisp vegetables come dinnertime. Get the recipe here.
Slow cooker white chili with chicken
A steamy bowl of chili ready to eat when you get back from work on a chilly day? Yes, please. Get the recipe here.
Slow cooker minestrone soup
Veggies and beans make this soup seriously healthy, but the few macaroni noodles in your homemade minestrone will trick you into thinking you're eating pasta for dinner. Get the recipe here.
Slow cooker roasted chicken
Before you grab that grocery store rotisserie chicken with who knows what in it, try making one yourself while you're away all day! Get the recipe here.