9 clothing items that defined — and changed — 2016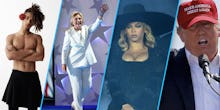 The year 2016, to some, was a year with the highest highs, and the lowest lows. We got a new Beyoncé album, but Kanye West went off the deep end. We had our first woman clinching a party's presidential nomination for the first time ever, but now Donald Trump is president-elect. We were gifted "Damn Daniel," but then Pepe the Frog turned into a white supremacist icon. 
In a year that seemed to shake America to its core, fashion continued to define and grow throughout the year: From signature hats to pantsuits to genderless fashion making a major breakthrough. 
So in this garbage fire year of 2016, let's look back at the items of clothing that defined — and perhaps maybe even changed — the year, for better or for worse. 
Hillary Clinton's white suit 
Before Hillary Clinton's speech at the Democratic National Convention, a white suit was just a white suit. 
But when Clinton slipped on that crisp white suit as she became the first woman to ever accept a major America party's presidential nomination, it became much more than that. It was a nod to history, to the Suffragettes, who often wore white during their fight for voting rights, as well as the women in politics who have paved the way for Clinton, like Geraldine Ferraro, who wore a white suit when she accepted the nomination to be the vice presidential candidate in 1984 at the DNC.
Clinton's white suit impact was so great that as women went to the polls to vote for a female president for the first time, they wore white as well. 
Melania Trump's pussy bow blouse 
Throughout the campaign, Melania Trump was never one to make a fashion statement. So it only really makes sense that the one fashion moment she did make seemed to have been completely accidental. 
Two days after audio leaked of Donald Trump saying, "Grab them by the pussy," Melania Trump decided to wear a blouse style known as a "pussy bow blouse" to the debate. People reacted accordingly. 
And it wasn't even just once that she threw on a pussy bow. To the following debate, a little more than a week later, she wore it yet again, in a blouse that was black, and not hot pink. 
So, was this a silent "I hate my husband"? Was it a subtle, "I'm voting for Clinton"? We guess we'll never know now... 
Donald Trump's "Make America Great Again" hat 
What we do know, though, is that 2016 did not signal the end to the bright red Make America Great Again hat, which Donald Trump popularized this year at campaign speeches and rallies.
The hat, which grew ire because of its real meaning ("America isn't great right now, as is") and for the fact that Adolf Hitler once offered a similar promise to Germany in 1934, turned into a Trump supporter's own fashion statement. 
In fact, right before the election, it sold out on Trump's official website. 
The burkini
Over the summer, a number of cities in the south of France implemented bans on the burkini, which is the colloquial term for the full-coverage swimwear that covers a woman's body and hair, at public beaches. The reason, according to the French prime minister is that the garments are a result of the "enslavement of women." 
As a result of these bans, women were apprehended, fined and told to remove the garment by police officers right on the beach. And that, of course, just sparked more outrage across the world, as well as a debate over the burkini itself, with the holder of the trademark for the word "burkini" telling the BBC: "No man in this entire world can tell us what to wear or what not to wear."
Although France's top administrative court ruled that the bans were illegal, still many mayors vowed to continue enforcing the ban. 
So still, the battle lives on. 
White Vans 
This was a year in desperate need of harmless, pure and entirely meaningless memes. So what we got was a 30-second video of a boy approaching another boy at high school and announcing, "Damn, Daniel. Back at it again with the white Vans!" 
And it became a phenomenon. 
There was no rhyme or reason for this. No hidden message or ill will. Just one boy continually approaching another at school, announcing "Damn, Daniel" for all to hear. Just one boy approaching another boy, letting him know that he dug his dedication to white slide-on Vans sneakers. 
In a year like 2016, this was a necessary reprieve. Or, at least the millions of viewers who retweeted the video on Twitter more than 300,000 times thought so. 
Kim Kardashian West and Kanye West's matching metal 
Kim Kardashian West and her husband Kanye West have had a tough year, what with Kim's assault and robbery in Paris, Kanye's hospitalization and now a flurry of divorce rumors. 
But before the end of this year, there was this: Kardashian West and West showing up to the 2016 Met Ball looking like Mr. and Mrs. Tinman (but chicer). Two matching silver metal outfits that said, "We are the power couple to end all power couples. We are 2016 cast in metal." 
It was a simpler time, a nicer time, a shinier time, when our thoughts revolved around Kardashians and not about the impending doom of our nation. We miss those days. 
Jaden Smith's skirt 
Genderless fashion and beauty broke through in 2016. We got our first male CoverGirl spokesperson. Male models walked down runways in corsets and pearls. And of course, there was Jaden Smith, our fearless leader of men who dare to wear skirts. 
In January, Smith made waves when he appeared in Vogue Korea wearing a pleated black skirt, and then in a Louis Vuitton ad, too, wearing a skirt among a group of women. 
It's a trend that hasn't really taken off yet, but his quest towards a day and time when men in skirts will be normal shouldn't be ignored. As Smith said himself, "I'm just saying that I've never seen any distinction," Smith told GQ Style. "I don't see man clothes and woman clothes, I just see scared people and comfortable people."
So here's to 2017, the year when people hopefully stop being scared of being comfortable in their own skin — and maybe a skirt or two. 
Beyoncé's black "Formation" hat 
For the Beyhive, Beyoncé's most devoted fan base, there may never be a day as unexpectedly great as Feb. 6, the day that Beyoncé dropped the "Formation" single and video out of the goddamn blue. 
On a Saturday afternoon that could have been like any other Saturday afternoon, Beyoncé decided to shake up the world, notably gifting us not only a video, but an image that is now printed on throw pillows and T-shirts: Beyoncé in a impossibly large, black, wide-brimmed hat, with middle fingers all the way up. 
Beyoncé seemed to have an immediate affinity for the look too, wearing an exaggerated version of the hat in the opening number of her Formation World Tour, and to the CFDA Awards, at which she accepted the fashion icon award, as well.
It gave off an "I can't be bothered" vibe that clearly became iconic fast for the leader of the free world. 
Michelle Obama's metallic Versace dress 
Speaking of leader of the free world, let's not forget Michelle Obama. 
It's almost as if she knew. It's almost as if she knew, less than one month before the election, that we needed this from her. 
To the state dinner with Italy at the White House, which would be her last state dinner as first lady, Michelle Obama pulled out all the stops, showing up in a swooping, shiny bronze chainmail dress designed by Versace. 
It was Hollywood glamour. It was a vixen-gone-right. It was perhaps the riskiest sartorial move Michelle Obama made this year, but it worked.
It really worked.  At the end of a year where many of us feel completely defeated and deflated, at least we had this. 
Oh, how we'll miss her (and them) so.