What to know about Andrea Bocelli, Donald Trump's inauguration performer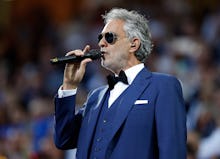 While Donald Trump seems to have had a hard time finding a performer to sing at his inauguration on Jan. 20, Jackie Evancho, 16-year-old opera singer who first appeared on America's Got Talent, announced on the Today Show on Wednesday that she would be singing the National Anthem. 
Here's what to know about Bocelli and what he may or may not perform at the inauguration. 
Bocelli is a world-renowned superstar 
Andrea Bocelli is a world famous tenor and pianist who was born in Lajatico, Tuscany, Italy in 1958. Bocelli has been blind since he was 12 years old when, already suffering from congenital glaucoma since birth, he was hit in the head during a football game and suffered a brain hemorrhage. 
According to Biography.com, "His big break came when a demo tape landed in the hands of Luciano Pavarotti," with whom he eventually performed the song "Miserere," which was a huge hit in Europe. In 1994, Bocelli won the newcomer's category of the Sanremo Festival and released his first album in Italy, Il Mare Calmo Della Sera. Since then, he has rose to prominence in the music world, performing with such famous artists as Celine Dion, Sarah Brightman, and recently, Ariana Grande. 
He has a history of chumminess with Trump
According to Vulture, we shouldn't be all that surprised that Bocelli will likely perform at Trump's inauguration. In fact, these two have been friends for years, working on various project together. Bocelli held a concert in 2010 in Trump's Mar-a-Lago club in Florida, and Trump was in attendance at Bocelli's concert in Central Park in 2011. 
He's gotten political before
In 2010, the Telegraph reported that Bocelli stopped a concert to talk about how his mother was advised to have an abortion after she suffered appendicitis while pregnant with him. Obviously, she chose not to do so. Calling his mother "the young brave wife," he then went on to add, "Maybe I'm partisan, but I can say that it was the right choice and I hope that this could encourage many mothers who sometimes might find themselves in difficult situations but want to save the life of their baby." 
The Telegraph also stated that Bocelli did not explain why his mother would have received this suggestion from her doctors when abortion was illegal in Italy until 1978, twenty years after he was born, or whether or not his mother actually underwent surgery for her appendicitis. Apparently, the doctors just applied "some ice to her stomach" in addition to other unspecified treatments. 
We're not even sure what exactly he's going to perform
Page Six states that Trump and Bocelli are scheduled to meet on Friday, the day after the latter's performance at Madison Square Garden in New York City. While this does seem particularly likely, neither camp has officially confirmed what Bocelli will be performing at the inauguration. 
Oh, and let's not forget that, if he does sing, Trump will have a 16-year-old girl and an Italian man perform at his inauguration, "two singers who could not vote in the 2016 U.S. election," as previously mentioned by Mic. So when Trump supporters want to inform you that the president-elect did finally find his A-list performers, make sure to mention this gem.