World-famous chefs cook up 'Soup for Syria' to support Syrian refugees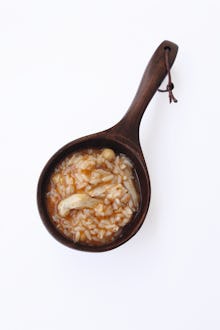 The recipe for refugee solidarity? A soup cookbook that's raising money for Syrians. 
But Soup for Syria: Recipes To Celebrate Our Shared Humanity isn't filled with food one might find in war-torn Aleppo. Instead, you'll find soup recipes to connect home chefs with cultures across the globe. The book, published in October 2015, is more relevant than ever: All profits will now go toward "various nonprofits" that are funding food relief efforts. It has already raised $300,000, NPR reported Friday. 
Lebanese cookbook writer and photographer Barbara Massaad is the brains behind the project. After giving home-cooked soups to refugees in Beirut, Lebanon, Massaad decided to create a soup cookbook to raise funds for refugees. 
"Because I am a cookbook author and photographer, I am doing what I can do to help through my work." — Barbara Massaad
"When I visited the Syrian refugees in Lebanon, I said to them: Had I been a barber, I would have cut your hair for free. Because I am a cookbook author and photographer, I am doing what I can do to help through my work," Massaad wrote in the book's introduction.  
Massaad traveled to see the refugee camps firsthand and to talk to people about their food cultures, NPR noted. Since she figured consumers might not want to eat like refugees, she tapped various famous chefs to contribute soup recipes for the book. 
A taste of who's inside: Alice Waters, Anthony Bourdain, Mark Bittman and Yotam Ottolenghi are just a few of the internationally renowned chefs who provided soup recipes for the project. The mouth-watering menu includes stocks, hearty lentil soups, chilled soups and more. 
It's a good subject choice — soup is comfort food and nearly every culture has a spin on its own warm, soothing broth featuring various spices, veggies and meats. 
The recipe below is for a comforting chicken soup featured in the book, contributed by Lebanon-based cooking instructor Helena Zakharia.
"It was a wonderful opportunity for me to be part of this amazing project," Zakharia wrote in Soup for Syria. "I enjoyed sharing my family's soup recipes. What a blessing it was for me and my daughter, Maya, to be able to participate in such a worthy cause and to meet such amazing people." 
Chicken Soup 
By Helena Zakharia
Servings: 6 to 8
Ingredients:
3 chicken legs, fat removed
Directions:
Place the chicken in a large pot with 8 cups (2 liters) water. Bring to a boil over medium-high heat, skimming off any foam that rises to the surface. Reduce the heat to simmer and add the onion, cinnamon, allspice and salt. Simmer gently until chicken is cooked, about 45 minutes. Continue to skim off the foam occasionally. 
Lift the chicken from the broth and set aside to cool. Remove the bone, cartilage and skin from the chicken and discard. Separate the meat into small pieces. 
Add the chopped vegetables to the broth and cook until tender, about 25 minutes. Add the chicken pieces, vermicelli and lemon juice. Adjust the seasoning and simmer for a few more minutes until the vermicelli is cooked al dente. 
Serve steaming hot and topped with chopped parsley.