Viral image shows what the nativity scene looks like without Jews, Arabs or Africans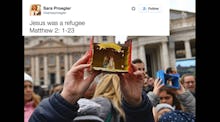 Dreaming of a white Christmas? The image below reveals what the nativity scene would look like if all Jews and unwed mothers were scrubbed away from the birth of Jesus. Spoiler alert: There's no one there, save for a few animals. 
Yup, Jesus, Mary and Joseph are all MIA in this illustration, which was posted to Imgur. It's a sober reminder the religious icons were not actually Christian. Jesus, Mary and her husband Joseph were Jews, the Huffington Post noted, explaining that religious artwork depicting all three figures as Christian later fueled anti-semitism. 
Many on Twitter have pointed out Jesus and his family were also Middle Eastern refugees. 
The nativity scene tradition began roughly 800 years ago when St. Francis wanted to remind greedy Italians that Jesus came into the world as a poor baby, the Archdiocese of Saint Louis explained, stating the pope had to okay the idea before St. Francis followed through with his radical idea. 
Throughout history, other popes have tried to drop knowledge on the masses about Jesus' true heritage. In 2014, Pope Francis said "inside every Christian is a Jew," the Huffington Post reported. 
Just remember: Inside every nativity scene, there probably shouldn't be a lobster, as the popular Christmas movie Love Actually suggests.