On Russian election hack accusation, Trump tweet suggests ends justify means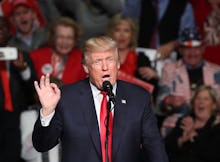 President-elect Donald Trump continued to brush off the cyberattacks against Democrats in 2016, suggesting in a tweet that what was revealed in the hacks justified the means by which the information was collected.
"Are we talking about the same cyberattack where it was revealed that head of the DNC illegally gave Hillary the questions to the debate?" Trump tweeted Friday morning, the latest in his quest to diminish the cyberattacks that U.S. intelligence officials unanimously believe were carried out by the Russians.
Trump has yet to fully condemn these attacks, which intelligence officials say the Russians carried out in order to create chaos and undermine faith in American democracy.
In fact, over the summer, he even egged Russia on to hack into U.S. government servers to try and find Hillary Clinton's emails. 
He is still publicly denying Russia's role in the attacks, playing dumb about what he knows about the hackers' nationalities despite having been advised on the subject in his classified intelligence briefings.
Democrats and Republicans alike called Trump out for his Friday morning tweet that sought to downplay the hacks.
Evan McMullin, a conservative and former U.S. intelligence officer who ran an independent bid for president in 2016, went on a tweetstorm, saying Trump is "doing Putin's harmful, anti-American work for him."
Even as Trump denies Russia's role, President Barack Obama — who has a month left in office — says the United States will "take action" against Moscow for the cyberattacks. 
"I think there is no doubt that when any foreign government tries to impact the integrity of our elections ... we need to take action," Obama told NPR. "And we will — at a time and place of our own choosing. Some of it may be explicit and publicized; some of it may not be."