Texas abortion providers get temporary reprieve from fetal burial rule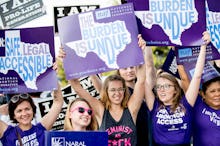 A federal judge has temporarily blocked a Texas rule that would require fetal tissue from abortions and miscarriages to be buried or cremated, prolonging the ongoing fight against the state's numerous abortion restrictions. 
During what the Houston Chronicle described as an "at-times testy" hearing on Thursday, United States District Judge Sam Sparks agreed to grant a temporary restraining order to prevent implementation of the rule, which was set to take effect Dec. 19. The measure requires reproductive health care providers to comply with burial or cremation protocol, regardless of the length of fetal gestation or a patient's wishes, and would prohibit the current practice of disposing of fetal remains as medical waste.
Initially proposed by the Texas Department of Health Services in July, the fetal burial rule has been framed as a public health measure; abortion foes across the state, however — including Texas Gov. Greg Abbott — have made clear it is an anti-abortion move, prompting reproductive rights advocates to intervene. 
On Monday, the Center for Reproductive Rights filed a lawsuit on behalf of several Texas abortion providers, arguing the fetal burial requirement "burdens women seeking pregnancy-related medical care" by forcing "a funeral ritual on women who have a miscarriage management procedure, ectopic pregnancy surgery or an abortion," NPR reported. The lawsuit also claims the rule is intended to reduce abortions in the state by driving up the cost of the procedure without guaranteeing that cost won't be passed down to patients. 
"This rule is a thinly-veiled attempt to shame Texans who have abortions and make it harder for the doctors who provide them," Heather Busby, executive director of NARAL Pro-Choice Texas, said recently in a statement.
Additionally, the rule presents problems for funeral home directors across the state, who have been reticent about complying with the measure. While some mortuaries do have experience with burying or cremating fetal remains after later-term miscarriages or stillbirths, the rule would present an industry of at least 4,000 funeral directors with new challenges, NPR reported.  
"If the regulations do go into effect, we as an industry, we're real uncertain and real uncomfortable at this point cause we really don't know what to expect," Michael Land, a past president of and current spokesman for the Texas State Funeral Directors Association, said. "Members of our legislative committee did meet with the governor's office to express our concerns. However, the governor's office was not receptive." 
The fetal burial rule was first proposed days after the Supreme Court struck down key provisions of another Texas law, which required abortion clinics to meet the costly standards of ambulatory surgical centers, and required abortion providers to obtain admitting privileges at nearby hospitals. Both provisions were rejected for creating "undue burdens" on people seeking abortion access — precisely the language used by reproductive rights advocates to describe the fetal burial rule. 
The parties in the lawsuit are set to return to court on Jan. 3, and the judge is expected to decide whether to allow the rule to take effect by Jan. 6.