The reason why 'Big Bang Theory' will not feature Bernadette and Howard's baby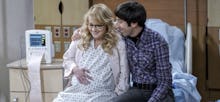 (Editor's note: Spoilers ahead for The Big Theory's "The Birthday Synchronicity" below.)
There's a new addition to The Big Bang Theory crew and her name is Hal. That's short for Halley, after Halley's Comet. In the Dec. 15 episode of The Big Bang Theory, "The Birthday Synchronicity," Bernadette and Howard welcomed their daughter into the world, but viewers didn't catch so much as a glimpse of her. Apparently, little Hal will remain off-screen.
An homage to Grandma
Big Bang Theory showrunner Steve Molaro explained to TVLine that Hal is a nod to Howard's late mother, who has never appeared on the show. 
"She is a loving tribute to her grandmother — this is a nice way for us to keep [Mrs. Wolowitz] alive," Molaro told TVLine. "It also means we don't have to have a baby on set, so it solved lots of problems."
The actress who voiced Mrs. Wolowitz, the late Carol Ann Susi, even got her own special homage in the show. Better Things star Pamela Adlon, who voices Hal's cries, shrieks and other infant sounds, does a spot-on impression of Mrs. Wolowitz's vocal range. Adlon was real-life friends with Susi before she died from complications related to cancer at in 2014 at age 62.
Narrative changes?
Molaro told Entertainment Weekly that Hal's arrival will not seriously alter the show.
"There will be some focus on [the baby]," he said. "Like any new parents, it's going to be an adjustment for them, but the beauty of this show and having all these amazing characters is there could be an episode where one of the stories involves the baby, or it's tired dad Wolowitz is back to work with the guys and it's Big Bang business as usual. I view it as an addition and not a drastic change in how we come up with stories."
Or, as Molaro told the Hollywood Reporter, "It's going to open up doors to more stories without drastically changing the DNA of what Big Bang Theory is."
The next episode of The Big Bang Theory will air Thursday, Jan. 5 at 8 p.m. Eastern on CBS.