7 times curvy women stood up for their damn selves in 2016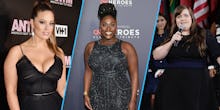 Plus-size women have had one hell of a year. They've starred in blockbuster movies and hit TV shows, walked runways and landed history-making magazine covers and even created a movement online with the help of hashtags like #EffYourBeautyStandards and #HonorMyCurves.
Despite a sordid history of the fashion and entertainment industries trying their hardest to silence them, plus-size women have broken through, launching discussions about beauty norms and societal pressures to empower the next generation. 
So here are just seven times plus-size (which we are defining as non-sample size) women stood up for their damn selves in 2016. Hear them roar:
Ashley Graham 
Model Ashley Graham is perhaps the most visible and outspoken plus-size woman in the United States. In the past year alone, she became the first plus-size woman on the cover of Maxim, as well as the Sports Illustrated swimsuit edition. She got her very own Barbie doll. 
She took on New York Fashion Week, bringing a slew of plus-size women on the runway with her, and was never silent about the hardships she's faced as a plus-size woman in the fashion industry, and the world. 
Though perhaps her most empowering moment this year was when she stood up for herself on Instagram after people were accusing her of losing weight. 
"People come on my page and body shame me because I'm too big, because I'm too small, because I'm not good enough for their standards," she wrote. "But at the end of the day, I'm good enough for me. Angles will make anyone look bigger or smaller and I just happen to know mine." 
So there.
Melissa McCarthy 
Melissa McCarthy has long been outspoken about all the bullshit she regularly deals with as a plus-size woman. She's taken on the horror of the plus-size section, for instance, and even how generally terribly plus-size women are treated in the world. 
But among her most powerful statements is one that came during an interview with Refinery29 in March, when McCarthy spoke out about how unfairly women in Hollywood are treated and judged.
"There are so many more intriguing things about women than their butt or their this or their that," McCarthy told the outlet.
"It's like, can you imagine them asking some of these guys I work with, 'How do you keep your butt looking so good?'" she continued. "It would be like, 'What the fuck are you talking about? Why are you asking about the shape of my butt?'" 
Leslie Jones 
Although it's debatable whether or not Saturday Night Live actress and comedian Leslie Jones is technically plus-sized, she stood up for herself after a situation that many truly plus-size women in Hollywood know all too well: Because of her size, designers weren't clamoring to make a red carpet dress for her. 
It was extra confusing because the dress was going to be for the premiere of the reboot of Ghostbusters, which would be practically enveloped in press anyway. But rather than sit silent, she took to Twitter to call out the fashion industry. 
"It's so funny how there are no designers wanting to help me with a premiere dress for movie," she tweeted. "Hmmm that will change and I remember everything."
If you followed the situation, you know that Christian Siriano was the designer who stepped up to help her, designing a stunning and simple long red dress for the premiere. 
We applaud Jones' gusto. 
Aidy Bryant 
Much like her Saturday Night Live co-star Jones, Aidy Bryant isn't here to let designers who refuse to dress her figure slide. 
After wearing a dress by the plus-size brand Eloquii to the Emmy Awards, Bryant told People what it's really like to be young, hip and cool, but still have designers ignoring your existence. 
"I just was really frustrated. I am young and I am cool and I want to wear cool clothes!" Bryant said. "So I think for a long time that has been what I have been trying to find. And it is a little bit of a battle, but that's why places like Eloquii are so good because they're designing modern clothes for women with real bodies." 
Dascha Polanco 
Actress Dascha Polanco, who is similar to Jones in that she's not technically plus-sized, also recently stood up for curvaceous women everywhere when she blasted the fashion industry for not being super eager to design red carpet-worthy dresses for her. 
In an interview with Vogue, Polanco said: "Even though I'm a size 8 or 10, I still can look as great as someone who's a size 0." 
And the same could be said for a woman who's a size 12 or 14 or 16 and so on. 
Danielle Brooks 
Polanco's Orange Is the New Black co-star Danielle Brooks has long been a cheerleader for curvy women like herself getting the clothes they deserve, appearing in ads for Lane Bryant and regularly speaking out on the pressures curvy black women face on a daily basis. 
In October, Brooks wrote an op-ed for Refinery29, specifically calling out the fashion industry for ignoring women like her, and told them exactly what they were missing. 
"Both the fashion and media industries are missing out, big time," Brooks wrote. "We want to shop 'til we drop, be on trend, feel hot and sexy. We want to see ourselves in magazines — not as a quota, but on covers." 
Brynne Huffman 
Back in June, a Facebook post written by a woman named Brynne Huffman went viral. In the post, she wrote about how all she was trying to do was run some errands in a pair of jean shorts and a white billowy shirt, but then a stranger decided to shame her on the length of her shorts, telling her at a UPS store that she may want to "rethink" them. 
"Plus sized doesn't necessarily mean unhealthy," Huffman wrote. "Plus sized doesn't necessarily mean lazy. Plus sized doesn't mean ugly or undesirable or untalented or uncoordinated or LESS. THAN. HUMAN."
"You might have an issue with my body," Huffman continued. "I don't. And I've worked very hard past judgmental family and friends, past divorce, past depression to NOT have an issue with my body." 
The post itself seemed to hit home to many, because at time of writing, it's been shared more than 160,000 times. Clearly, she hit a nerve.