Terry Crews 'Overwatch:' Doomfist rumors sparked by Blizzard visit and photo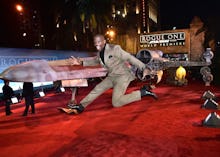 Remember when Brooklyn Nine-Nine actor Terry Crews commented on a Reddit thread saying that he'd love to voice the rumored new Overwatch hero Doomfist? Well, that particular hype train kicked back up again Thursday evening when an image of Crews on the Blizzard campus popped up on Twitter.
The image, tweeted by Blizzard employee Terran Gregory, doesn't offer much context for the visit, but that didn't stop the Overwatch fandom from freaking the hell out. A post on the Overwatch subreddit titled "Terry Crews at Blizzard campus! IS IT HAPPENING!? #Doomfist" currently sits at the top of the page with over 14,800 upvotes.
Crews posted a selfie on Instagram from Blizzard's headquarters too, saying that he was there to meet and talk with the game's creators.
Terry Crews Overwatch: The internet really wants him to voice Doomfist
Whether Crews was there to actually lend his voice to a Blizzard character is impossible to determine, but fandom is still having fun with the whole thing. Here are just a few of the responses to the tweet embedded above.
Back when the Terry-Crews-as-Doomfist hype first started circulating, YouTuber Harute uploaded a video featuring Crews' voice spliced over Overwatch footage to imagine what a Crews-voiced character would actually sound like. Unsurprisingly, it's delightful.
If Blizzard is actually cooking up a new Overwatch character voiced by Crews, Mic will let you know once it's official. Until then, just keep that video above on loop.
For more on Overwatch, read Blizzard's response to the outcry over Mei's winter skin, check out all the updates in patch 2.01, read the fandom's reactions to that Zenyatta Nutcracker skin, uncover the hidden details in the Winter Wonderland event and check out all the other unlockable goodies you can earn for Overwatch's other characters.