Kid Cudi 'Passion, Pain & Demon Slayin' review: The artist sounds revolutionary again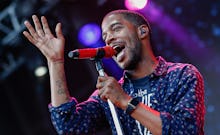 Kid Cudi's rampant dissing spree back in September — when he took shots at Kanye West and Drake for being con artists and fake friends — finally makes sense.
Cudi had watched his fellow artists' victory parades; he had read the critics celebrating albums the world knew were written by committee, full of borrowed styles from young talents. He likely knew his self-written and largely self-produced baby, Passion, Pain & Demon Slayin', wouldn't be getting any of the same attention, especially after the desperate mess that was Speedin' Bullet 2 Heaven, his last album. Without his epic rant this fall — and his subsequent hospitalization — the world might've missed Passion entirely.
Thankfully, Passion follows through on Cudi's assault against "fuckery." The long-awaited epic delivers: It feels like a moment of truth, when an artist who's been pushing the boundaries of hip-hop into the unknown finally finds what he knew was out there — that sound.
Tastefully psychedelic beats that stay dreamy but driven, confessional but not sentimental lyrics — Passion locks together and somehow breezes through the album's absurdly long hour-and-a-half runtime. It reveals a full vision of what makes Kid Cudi such a life-saving, vital artist.
Part of the renewed sonic wholeness comes from Cudi's reconnecting with Plain Pat, the producer who helped make his debut mixtape, A Kid Named Cudi, feel like such a revolution when it dropped in 2008. 
It was difficult to see at the time, but Cudi's melodious flows and affinity for dark, dreary beats laid blueprints for a new school of hip-hop. 
It gave the go-ahead for people like Kanye, Drake and Travis Scott to pour more of themselves into their music than hip-hop would normally have been comfortable with. Passion, Pain & Demon Slayin' reasserts Cudi's claim to this lonely throne.
Like all of Cudi's albums, the tracks function as a compendium of emotional trials and the inspirational maxims the artist turned to overcome them.
"Since I was young, been groovin' to my own drum," Cudi sings in unison with Willow Smith on "Rose Gold." "Ain't that many teachers show me my potential / Felt like a failure, momma said you know better."
It's a story we've heard a hundred times, but it finally feels like Cudi's having fun telling it. Cudi is bolder and more confident throughout, finding new ways to balance the sonic experimentations with his early mixtape boom bap.
The album's penultimate track, "The Commander," literally lifts the hook from "Heart of Lion," which appeared on Cudi's Man on the Moon debut. But the landscape is completely new. The instrumental is far more lush, Cudi's trial-and-error indie albums have given him experience layering his orchestrations. It lends far richer hues to his swirling, psychedelic gloom. 
In a year full of overwrought, overlong hip-hop releases, surprisingly little on the album feels aimless. All the extended long hums and solos on "Frequency" and "All In" add necessary flourishes to the desolate landscapes Cudi is painting — this time with a renewed clarity.
Since his hospitalization, we've seen how many people Cudi has truly touched. Saturday Night Live's Pete Davidson, rapper Travis Scott and countless others have told the world Kid Cudi literally saved their lives. With Passion, Pain & Demon Slayin', it's Cudi's turn for a well-deserved victory lap. He shows his wounds, digs deep into them to find their source and sews them up with a deft lyrical flick. 
Knowing Kid Cudi's creative restlessness, he's likely already onto the next wave. But the new album adds some comfort and clarity to whatever's next. Whatever creative missteps he'll make in the future, fans can hold out hope a stunning amalgam like Passion, Pain & Demon Slayin' will coalesce when they need it to.