'La La Land' just hit theaters and Twitter is already calling it the year's best picture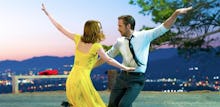 Fresh off its best picture win at the Critics' Choice Awards and its leading seven film nominations at the Golden Globes, the Emma Stone and Ryan Gosling-starring original musical La La Land has finally been given its wide release. 
La La Land received a limited release last week in just five theaters, where the film earned an incredible $171,00 per theater over the weekend — the third-highest per-theater average ever for a live-action film. Demand is clearly high. 
La La Land is already the front-runner for best picture at the 2017 Academy Awards, as four of the last five best picture winners at the Critics' Choice Awards have gone on to win the same award at the Oscars (2015 winner Boyhood lost out to Birdman at the grandest stage of them all). A 94% rating on Rotten Tomatoes is a pretty good indication of its chances as well.
With La La Land now available in wide release, film fanatics have been flooding the theaters, some for special Thursday evening showings. And the response on Twitter is predictably positive. 
To be fair, the response was not all positive, but at least those that did not enjoy the film know lonely that feeling may be.
La La Land is now playing in theaters. You can check out Mic's review of the best picture hopeful here.