'La La Land' Oscar Chances: Which awards is the Emma Stone musical likely to win?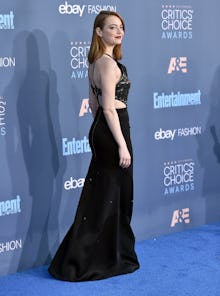 Here's to the ones who dream — of Oscars, that is.
La La Land opened to boffo box office in limited release last weekend, signaling a healthy life in cinemas for the many weeks to come. Combined with its strong critical reception (though not without its detractors) and early awards dominance, it's the clear frontrunner at the 2017 Academy Awards.
But exactly how strong will La La Land's performance be at February's Oscars ceremony? We've broken down its likeliest big nominations, as well as how likely the film is to win each.
Best picture
This increasingly feels like a given. Yes, Moonlight is also performing well in early awards. The movie is proving to be more of a threat than anyone could have expected of a tiny independent movie with an all-black cast in the wake of two years of #OscarsSoWhite. But the academy loves movies about movies — Argo, The Artist, etc. — and this one should be an easy choice for them.
Likelihood of nomination: Sky high
Best actor
Ryan Gosling is kind of just giving Ryan Gosling in La La Land. You've seen him do this same thing in Crazy, Stupid, Love, The Big Short and more. But though he almost certainly won't win (Casey Affleck will), lead actors in best picture favorites often get swept into the race on the film's coattails.
Likelihood of nomination: High
Best actress
So far, best actress remains the category with the seemingly least certain result among the four acting races. It's not exactly a free-for-all — only Emma Stone and Natalie Portman (for Jackie) have a prayer — but while they're locks for nominations, either one of them could win. Portman is a previous winner, which gives the edge to Stone, but it's definitely not a guarantee.
Likelihood of nomination: Certain
Best director
Damien Chazelle is a beloved figure among film creatives — the winners for his 2014 film Whiplash at the 2015 Oscars gave him the highest hosannahs in their acceptance speeches — and is something of a wunderkind because of his age (he's 31!). He could win, but there also may be a feeling he's going to have another chance. If La La Land takes best picture but voters want to spread the wealth, Barry Jenkins could easily win for Moonlight instead.
Likelihood of nomination: Very high
Best original song
Just a reminder that "Audition (The Fools Who Dream)" is a better song than "City of Stars." While it will be fine when the latter wins come February (beating out Moana's "How Far I'll Go"), "Audition" is the song that we should remember.
Likelihood of nomination: So high that it might even get two