3 ways the Electoral College vote on Dec. 19 could pan out, from most to least likely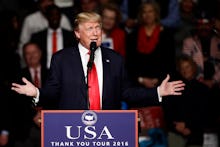 The Electoral College is set to meet in state capitals across the country on Monday to certify the results of the presidential election.
Most years, no one pays any attention to how the Electoral College votes. It's usually a ceremonial process in which the electors meet, vote the way they have pledged to vote, and go on their way, executing the duty they signed on for when they became members of the Electoral College and clearing a path for the president-elect to be sworn in on Inauguration Day.
But 2016 is anything but "most years," and an Electoral College-popular vote split has Americans up in arms.
Many are calling for the Electoral College to reject Donald Trump — who won the Electoral College but lost to Hillary Clinton in the popular vote by nearly 3 million votes. 
Campaigns have been launched and protests are scheduled to try and deny Trump the 270 votes he needs to win outright.
With Trump's Electoral College win over Clinton standing at 306-232, that means 37 Republican electors would need to break their pledge and vote for a different candidate when their state meets to certify the vote. 
It's extremely unlikely that will happen, for a number of reasons.
Yet Mic decided to game out the three scenarios that could happen when the Electoral College meets for those who will be waiting on the edge of their seats.
Here they are, from most to least likely.
1. It's totally uneventful and electors fall in the exact way the election results dictated
"Faithless electors" — or members of the Electoral College who don't vote for the candidate they pledged to vote for — are extremely rare.
Since the Electoral College was created by the signing of the Constitution in 1787, there have only been 157 faithless electors, according to FairVote.org, a group that seeks to preserve voting rights.
The last time there was a faithless elector was in 2004, when a Democratic elector in Minnesota voted for Democratic vice presidential nominee John Edwards instead of Democratic presidential nominee John Kerry. The elector was thought to have done this by accident.
Given the rarity of faithless electors, the most likely scenario is that — despite the posturing and protests — no electors will actually change their votes.
"These electors are, generally, party stalwarts," Robert Hardaway, a law professor at the University of Denver who studies the Electoral College, said in an interview. "They are the last ones who would ever change their votes."
In fact, the most likely scenario is that some electors simply don't show up to their state houses to cast their ballots on Monday, leaving organizers to quickly find replacements.
"It's not uncommon for various electors to not actually appear, either because of sickness, disability or a snow storm," Hardaway said. "And when that happens, they just go out in the hallway [and] get a janitor who is passing by." Hardaway added, "He agrees to be a substitute — and there's no change in the electoral vote."
2. One or two electors defect, but the race's outcome stays the same
Potential faithless electors have made a lot of noise over the past few weeks.
There is a Democratic elector in Washington State who said he may vote against Clinton, according to Politico. 
There is also Christopher Suprun, a Republican elector from Texas, who says he won't vote for Trump.
If either actually keeps their word, their votes would cancel each other out and the outcome would be essentially the same. Trump would be free and clear to be inaugurated on Jan. 20.
3. Anti-Trump forces get 37 electors to defect, and chaos ensues
This is the least likely of the three scenarios, but anti-Trump forces are hopeful it will happen.
Harvard Law professor Larry Lessig claims 20 Republican electors have privately come to him asking for legal advice on what would happen should they not vote for Trump. And he suggested there was growing momentum from Republican electors to ditch Trump.
Lessig said 20 GOP electors were "considering" not voting for Trump — which is much different than firmly committing to become faithless electors.
And 20 is far short of the 37 needed to deny Trump a victory.
Lessig's claim also doesn't seem to hold up, given that the Associated Press surveyed 330 of the 538 electors, and found just one Republican elector who said he wouldn't vote for Trump. 
If 37 electors did defect from Trump — and that's a bit if — it would kick the decision of the election's outcome to the U.S. House of Representatives.
At that point, the House could technically pick any candidate they wish to win the presidency — it wouldn't have to be Clinton or Trump.
But with the House under Republican control, and with Republicans accepting and warming to Trump, it's unlikely they would change things up and pick a different winner.
"In theory, they could choose Joe Blow," Hardaway said. "There's no limit on who. But Congress is mostly Democrats and Republicans, and they would vote for their candidate."