'Super Mario Run' Android release date: Download this hilarious knockoff while you wait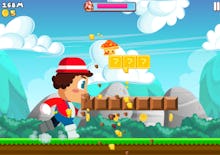 Super Mario Run for iOS is finally available, but Android users who want to play Mario's mobile debut are still waiting to hear when the game will get an official release date for their mobile platform.
In the meantime — if you're not too proud — you can play Super Plumber Run, an eerily similar alternative, though its creators claim it's not a "clone." 
You can be the judge of that. Here's what Super Plumber Run looks like in action:
Like Super Mario Run, Super Plumber Run features a character running constantly from left to right, dodging giant bullets, collecting coins and hitting blocks to retrieve mushrooms that make him grow.
Unlike Super Mario Run, though, Super Plumber Run is free with optional in-app purchases. Nintendo's official version is free to download, but costs $9.99 to unlock the full game after completing the first three levels.
The app's (typo-ridden) official description on the Google Play store claims it's not a rip-off, but throws some shade at Super Mario Run anyway:
Note: This isn't a Mario Run clone! The thematic if very similiar, but it has a diferent premise.
Take that, Nintendo. If you hadn't heard, Super Mario Run requires an always-on internet connection to stave off piracy and keep it synced to the game's online features.
As of this writing, Super Plumber Run has a rating of 3.0 out of 5 on the Google Play store. Most reviews acknowledge it's a total rip-off of Super Mario Run, but not a terrible alternative until the real thing comes out.
More Super Mario Run news, updates, tips and tricks from Mic:
If you want to know more about Super Mario Run, walk calmly toward Mic's latest coverage, like a guide to making sure it doesn't demolish your data usage, our review of the demo, an explanation for why the game isn't free, early predictions about whether Nintendo's iPhone-first approach is helping or hurting its chances of success and a list of Android games to play while you wait.