Is 'Rogue One' the best 'Star Wars' film yet? Here's what Twitter thinks.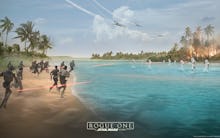 This is not a drill; Rogue One: A Star Wars Story has been released in theaters. The first of several planned Star Wars anthology films is poised to be one of the biggest hits of the year, and according to Deadline, has blasted off to $30 million in Thursday night previews — easily the second-highest December number behind Star Wars: The Force Awakens.
With Star Wars fans flocking to theaters, it is not surprising that reaction to Rogue One is already dominating social media. One of the biggest questions leading into the release of the film has been how fans would react to a self-contained story, whose ending we pretty much already know. Well, the response is positive. Very positive. 
Along with the film's 85% on Rotten Tomatoes (with a slightly higher user score), fans have turned to Twitter to let everyone know how they feel about Rogue One. While most aren't going quite as far to say that it is the best Star Wars film yet, the general consensus is that it is near the top. 
Here's what Twitter thinks of Rogue One:
If you have seen Rogue One, loved it, and are getting ready to voice your appreciation on Twitter, remember, spoilers are not cool.
Rogue One is now in theaters. You can read Mic's review of the film here. 
Mic has ongoing coverage of both Star Wars and Rogue One. Please follow our main Rogue One and Star Wars hubs.