"Carpool Karaoke" with Mariah Carey and other celebs will get you in the Christmas spirit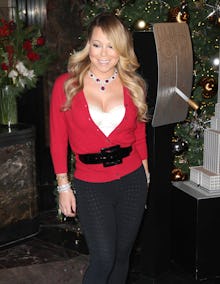 James Corden delivered a full-blown Christmas miracle! Mariah Carey joined The Late Late Show host for a "Carpool Karaoke" edition of her holiday classic "All I Want for Christmas." But she wasn't the only one singing the fan-favorite tune. Adele, Lady Gaga, Gwen Stefani, Chris Martin, Elton John, Demi Lovato, Selena Gomez, Nick Jonas and The Red Hot Chili Peppers all joined in as well for a special rendition that will go down in "Carpool Karaoke" history.
When Corden prompts Carey to tell him what she wants for Christmas, she coyly replies, "I want you to sing my song, 'All I Want for Christmas.'" And all of Corden's carpoolers were happy to oblige.  Carey kicks off the few notes from "All I Want for Christmas" of her 1994 mega-hit.
Unlike Corden's usual one-on-one "Carpool Karaoke" sessions, this present-packed ugly Christmas sweater extravaganza gives viewers a revolving glimpse into fellow carpoolers' performances of the same magical tune.
You can check out the epic "Carpool Karaoke" segment below: