CNN commentator Angela Rye shares "humiliating" TSA experience on Twitter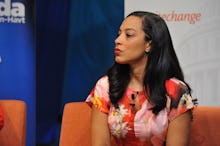 On Thursday, CNN commentator Angela Rye shared a video on Twitter documenting her experience with the TSA after being "randomly selected" for a full-body search at Detroit Metropolitan Airport en route to New York.
The video — which Rye says she asked a police officer to film — shows a TSA agent patting down Rye's hair, shoulders, arms, back and torso before moving toward her genitals, at which point the agent lifts up the hem of Rye's dress to search her upper thighs and crotch. 
"I got my vagina patted and a hand right between my vagina," she explained after Twitter user @brilliant_benny said they didn't see the problem.
Rye, visibly upset for the duration of the frisk, is in tears by the end of the clip.
"I'm hoping my humiliation will fix the system," she wrote in the accompanying tweet, including the hashtag #TSAVaginaMonologues.
In a phone interview Friday, Rye said she's a regular flier and uses TSA's precheck system to move the process along more easily. But even after clearing two security scanners — "I didn't beep," she clarified in a later tweet — she was still selected for random screening when the scanner lit up around her crotch.
Rye said when she repeatedly asked the TSA agent not to perform a pat-down of the area, the agent contacted supervisors and then the police, who threatened to escort her out if she didn't comply.
"What could I possibly be hiding in a Diane von Furstenberg wrap dress?" she said. 
A lawyer by trade who has served as senior advisor and counsel to the House Committee on Homeland Security, Rye said she was familiar with which civil liberties apply in an airport setting. "I'd never heard of anything on this level," she said Friday.
Since TSA's official rules didn't allow for her to take a photo of the scanner showing the blip near her genitals, an officer offered to film the body search for her. Rye said she believed the officer initially agreed to record the process in a show of solidarity with the TSA agent — but then, realizing something had gone wrong, offered to help Rye file an incident report. 
A glance at the #TSAVaginaMonologues hashtag reveals Rye's experience is far from a rare occurrence. Multiple women attested to triggering body-scan sensors and being subjected to similar searches.
"My mind went to men and women who have been sexually assaulted and molested, and I thought of how it might take them to a place when someone is touching their bodies without their permission," Rye said. 
Rye said she finished filing an official TSA complaint Friday afternoon and that officials at Homeland Security will talk with the TSA next week about the administration's protocol.
"No one has an issue with them protecting the homeland," Rye said. "But it's the means to that end goal that we have to call into question. We're in a horribly scary time, but that doesn't mean we adopt an 'anything goes' approach."
She continued, "I think it's OK to ask questions about appropriate behavior and appropriate touching when we're talking about security. There's a balance between security and civil liberties and we can't forget that."
Mic reached out to the TSA which provided the following comment:
The Transportation Security Administration takes reports of alleged impropriety very seriously. TSA is currently looking into the specific details as to what occurred during the screening process to ensure our security protocols were followed. We regret any distress the security screening process may have caused the passenger. We have reached out to the passenger and will work with her directly to address her concerns.
Dec. 16, 2016, 4:18 p.m. This story has been updated.