The $72K auction to win a coffee date with Ivanka Trump is now listed as "closed"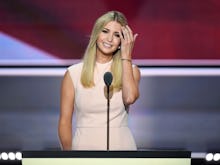 A charity auction to win a date with incoming first daughter Ivanka Trump appeared to close Friday on CharityBuzz.com — after bidding reached at least $72,888 earlier in the day.
A Google cached version of the page from early Friday is still visible.
The platonic date with Ivanka Trump had been listed online as LOT #1182106 and promised the winner coffee — at an "estimated value" of $50,000 — in either New York or Washington, D.C., the New York Times reported Thursday.
Proceeds were to go to the Eric Trump Foundation. According to its website, the foundation is "dedicated to raising money" for St. Jude Children's Research Hospital.
It's not uncommon for celebrities — like Mariah Carey or Britney Spears — to auction off their time for charity. And in 2013, for example, someone paid a whopping $150,000 for a private tennis lesson with Rafael Nadal, with proceeds going to the athlete's own foundation.
As the Times reported, however, auctioning off a coffee date with Ivanka Trump raised questions of ethics, given the extensive role she has been playing during her father's transition into office.
Ozan M. Ozkural, a London-based investment manager, told the Times he bid $60,000 on the "date" because he wanted to get a sense of what Donald Trump's presidency might mean for countries where Ozkural invests.
In other words, the auction was seen as a way for bidders to trade money for political access that could result in financial gain.
Eric Trump told the Times that auctioning off a coffee date with a member of the Trump family was a tradition.
"We've done this every year," he said. "We utilized CharityBuzz to raise significant funds. Every single year we've auctioned off a lunch with one of ourselves. It's nothing more than an effort to raise a lot of money in an effort to help sick children."
But Trump also told the Times he was considering "shutting down" the auction.
Late Friday morning, a search for the lot number on the CharityBuzz website brought up a page featuring a "Lot Closed" message, even though bidding was not scheduled to close until Tuesday, Dec. 20.
A tweet from a Times reporter also suggested the auction had been "pulled" from the site.
Neither CharityBuzz nor the Trump family immediately responded to a request for comment.