Milo Yiannopoulos mocked a transgender student in Milwaukee. Here's how she responded.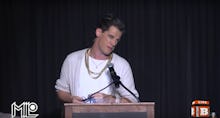 On Tuesday, alt-right provocateur and Out cover model Milo Yiannopoulos brought his white nationalist schtick to the University of Wisconsin - Milwaukee. 
The talk was titled "Master Baiters: The Liberals Keeping America's Race War Alive," and Yiannopoulos diverted from discussions of race to mock and misgender transgender student Adelaide Kramer. He mocked Kramer's battle to use the women's locker room, called her a "tranny" and made fun of her appearance. 
"I've known some passing trannies in my life, which is to say transgender people who pass as the gender they would like to be considered," Yiannopoulos said. He then turned to look at Kramer's picture, which was projected on a screen, and pointed out why he thought Kramer was "failing" at passing. 
"The way that you know he's failing is I'd almost still bang him," he said. The crowd nervously laughed at his joke. 
Kramer was sitting in the crowd during the event, which was open to the public. Kramer said in a phone interview she attended the event with the hopes of starting a meaningful dialogue about transgender issues with some of his more rational supporters. 
Instead, she was surprised to face a personal attack from Yiannopoulos.
"I completely froze up and locked up," Kramer said. "I sat there motionless, not moving, facing forward and hoping to God that nobody in the crowd recognized me." 
Kramer, who identifies as a nonbinary transgender woman, said that she was surprised no one interrupted Yiannopoulos once he crossed over from cultural commentary to direct attack at a student.
"I was afraid that Milo might see me and point me out and I'd get screamed at," she said. "I also had this image of people at Trump rallies that get physically assaulted and was wondering if that was about to happen to me." 
University chancellor Mark Mone sent an email to students after the appearance, according to student body newspaper Media Milwaukee. Mone condemned Yiannopoulos' words but upheld his right to say them. 
"I do not agree with Yiannopoulos' views, and I strongly condemn the belittling of others and their appearance, and the encouragement of hate and harassment," Mone wrote. "I also will not stand silently by when a member of our campus community is personally and wrongly attacked. I am disappointed that this speaker chose to attack a transgender student." 
Mone's email left Kramer furious and she called it a "face-saving gesture after having let this fascist come here." She said she was mad that no one from the administration had contacted her and only paid her "lip service." Kramer, who previously faced a long battle with her school about its locker room policy for transgender students, finally withdrew from classes in October. She will be attending a different college next semester.
She responded to the chancellor's statement with a long email, which opened "GO FUCK YOURSELF," and copied around 400 other people on the email, including faculty, administrators and student journalists. She said she sent the email because she felt she had nothing left to lose. 
"I was thinking you know what, I'm not returning here, I'm leaving, so I'm going to tell them how I really think," she said. "I don't give a shit if their feelings are hurt because they don't know what it's like." 
Since video of Yiannopoulos' talk circulated online, Kramer has received a mix of hateful messages and positive support, though she said the support far outweighs the trolling. 
But, she said, one thing is for sure: "I'm not going back to that campus ever."