'Rogue One' Cosplay: What should 'Star Wars' fans wear to the theater?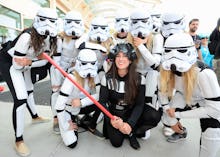 It is not all that surprising that Rogue One: A Star Wars Story is currently dominating social media. The first anthology film in the beloved Star Wars franchise has now opened in theaters, and the reception has been extremely positive. 
Deadline announced that Rogue One nabbed the highest Thursday preview of 2016 with just under $30 million — beating out Batman V Superman ($27.7 million) and Captain America: Civil War ($25 million). Granted, Rogue One's Thursday night showing is fairly predictable, considering Star Wars has some of film's most loyal fans.
One of the coolest parts of going to a Thursday night showing (or, really any opening weekend showing) of a fan-favorite franchise like Star Wars is seeing the people who dress up. If you have ever gone to a midnight showing of a Star Wars or comic book adaptation, you understand (Thor's hammer is a popular prop). 
At these types of films, fans show up dressed as their favorite characters, eager to display just how much they love the series. Typically, the only other time you see such dedication to cosplay is at conventions. 
So, if you have not seen Rogue One yet, but want to dress to impress, here is some inspiration from some of the best cosplay getups shared on Twitter thus far. 
Even if Rogue One does not prominently feature Jedi, you can never go wrong with a lightsaber.
Sure, dressing up alone is fun, but nothing beats cosplay as a group (they look like they're having so much fun!).
Who says only humans are excited for Rogue One? Who makes a better Jyn Erso: Felicity Jones or this adorable cat?
There is no rule that you can't show off your sports fandom at the same time as your undying support for Star Wars. (Although, an Imperial-themed costume might work better with the Cowboys.)  
Wait, is this more cosplay or the actual characters from Rogue One? 
Who else is ready to join the rebellion?
These are just a few of the outfits Star Wars fans are wearing to the theaters this weekend. A quick search on Twitter will turn up no shortage of options to express your Star Wars geekdom. 
Rogue One: A Star Wars Story is currently in theaters. You can check out Mic's review of the film here. 
Mic has ongoing coverage of both Star Wars and Rogue One. Please follow our main Star Wars and Rogue One hubs.