Kid Cudi's 'Passion, Pain & Demon Slayin' Best Lyrics: The 8 boldest lines from the album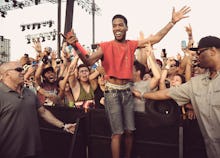 I'd put money on it: Kid Cudi has saved more lives than just about anyone in hip-hop. 
Celebrities from Saturday Night Live star Pete Davidson to hip-hop artist Travis Scott and countless others have all admitted as much, describing the way Cudi's music reached them in times of extreme need and helped them find the strength to press on. Cudi's worked this magic essentially by being honest — terrifyingly, graphically so.
In baring his soul and mind, unburdening it of its traumatic memories and analyzing its weaknesses and obsessions, Cudi has authored music fit to connect with those who need it most. The artist's latest, his near 90-minute, 19-track epic Passion, Pain & Demon Slayin', doesn't exactly reinvent this wheel, but it does merge all the influences Cudi has collected over the course of his past five studio albums into a thrilling, coherent whole.
Lyrically and musically, it's one of his finest offerings in years. Here's a glimpse at the lyrics that make it so.
1. "By Design," verse one
Fall from dusk to dawn, I am truly alive
Cudi's "By Design" boasts contributions from 2016's No. 1 feature, André 3000 (credited as Andre Benjamin). The Outkast rapper was fascinated by Cudi's previous offering, Speedin' Bullet 2 Heaven, calling it "the most recent thing that I think is really great," in a Billboard interview. He brings out some of the best lines from Cudi, but of course, you don't invite one of weirdo rap's titans into your house and not serve him the best.
2. "By Design," bridge
To the light, to the light I am Carol Anne
Cuing it up with a nod to the Poltergeist, Cudi delivers one of the album's most pointed truths in the bridge to "By Design." God and his angelic hosts can provide inspiration, the lines seem to argue, but the only person who can save you at the end of the day is yourself. It offers a bit of a cunning reversal on the old Christian maxim: "Jesus saves."
3. "Baptized in Fire," verse two
Nightmares kept a nigga from closing his lids
On "Baptized in Fire," Cudi reframes his origin story into a series of new metaphors. In one deft lyrical turn, the rapper characterizes the grip his nightmares have on him to the way shooters grip their pistols. He's gotten used to having to drag all his dead weight around day to day, he admits, having customized the stock so it's a little more stylish and easy to bear.
4. "Rose Golden," hook
Oh, since I was young, been grooving to my own drum
This hook zooms in on a story Cudi has told a hundred times before: the moment he discovered he was different and destined for greatness. His teachers couldn't show him his potential — the one thing they're paid to do. Cudi had to find the strength within himself, and he's been trusting it ever since, to great effect.
5. "The Commander," Andre Benjamin's verse
So when did we become, so sophisticated and smart
Andre opens his verse on "The Commander" with the above question, one that philosophers have been repacking for years. He doesn't answer it but lets it frame his lust in grandiose, cosmic terms. Only Andre Benjamin can take his seduction to the stars and back and never lose a single step in his swagger.
6. "Distant Fantasies," verse three
The curse of once dating an awesome nigga
"Distant Fantasies" is Cudder's take on Drake's favored ex revenge fantasy. The voodoo with which Cudi opens verse three feels alternately cheeky and threatening. Ultimately, he leaves it in the girl's hands: If you want to break the spell and stop wondering about what could have been, come back. The logic is hard to argue with.
7. "Surfin'," verse two
The industry is so full of shit
What makes these lines stand out is how unapologetically corny they are. It's  extremely basic, the kind you hear and think: "How has no one spit this line this way before?" Cudi seems to recognize how obvious it is and kind of breaks the fourth wall to answer the listener's skepticism. Yup, it really is that simple, no subliminal message, no nothing. All the idiots kicking themselves for not thinking of it first, go surf your own wave.
8. "Swim in the Light," verse two
Calls from the dark
Cudder has long filled his lyrics with stories about drugs of all varieties, from hallucinogens to pills. Here he offers a glimpse at the dark side of drug use and abuse. Those "calls from the dark," a seeming stand-in for addiction, will keep coming even when one is feeling good. This is actually one of Cudi's rare victories. "The same old tricks don't work no more," he sings. He's broken the spell for now, but the devils will like be back. Feeling comfortable with that fact is where true strength lies.