'GTA 5' cheats and codes for PS4, Xbox One, PS3, Xbox 360 and PC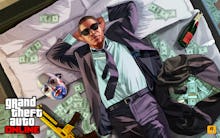 GTA 5 has sold 70 million copies, largely because no other game provides the same level of fun and chaos as Rockstar Games' Grand Theft Auto series. It's an amazing game, but there's one way to make it even better: cheat codes.
Whether you're a veteran criminal of the state of San Andreas or a street-level thug taking his first steps in the city of Los Santos, your smartphone is one of the most powerful weapons at your disposal. If you dial the right phone numbers, you activate some amazing cheats.
GTA 5 cheat codes for new and veteran criminal masterminds
GTA 5 sales show no sign of slowing down anytime soon. For over three years, Rockstar has continued to update GTA Online regularly with fresh content — like the recent Import/Export DLC — to give veteran players new things to do and likely to encourage others to try the online mode for the first time. Rockstar also hasn't been afraid to swing the banhammer in GTA Online.
When a game continues to sell at the rate GTA 5 is selling, there's always a steady influx of fresh players. And even day one players who stuck with GTA 5 for the long haul still may not have done everything the single-player campaign has to offer.
GTA 5 cheat codes are therefore just as relevant today as they were three years ago. So let's get to some phone numbers. These cheats only work in GTA 5's single-player mode, and on the PC, PS4, and Xbox One versions of the game. They are disabled for GTA Online.
For Xbox 360 and PlayStation 3, cheat codes use only the controller buttons. GameFAQs has pages for the Xbox 360 codes and the PlayStation 3 codes. The Xbox One and PlayStation 4 button commands are usually identical to the previous generation's button commands.
GTA 5 cheat codes: Magic cell phone numbers to let your fingers do the walking and your guns do the talking
For the uninitiated, your smartphone in GTA 5 provides many of the same services we expect from our smartphones in the real world: web access, online banking, taking selfies, sending email, etc. You also have a regular old keypad on your in-game phone where you can dial numbers to call. 
Dialing certain numbers will activate cheats, and these phone numbers work for all four console versions of the game. GTA 5 cheats has an extensive list of these cheats, along with links to YouTube videos that demonstrate the cheats in action and the correct button combinations to activate each one.
If you need to cross-check GTA 5 cheat code phone numbers, you can also refer to the GTA 5 wiki and Cheat Code Central. Some sites can be off by a digit when they list the numbers, but to be fair there are a ton of phone number cheats in GTA 5, so a mistake here or there seems inevitable.
For instance: 1-999-228-2463 (CATCH ME), activates Fast Run, which increases your max sprint speed. Fast Run can also be activated on Xbox 360 and Xbox One by pressing Y, Left, Right, Right, LT, LB, X. On the PS3 and PS4, Fast Run can be activated by pressing Triangle, Left, Right, Right, L2, L1, Square. For the PC version of the game, press the tilde key to call up the game console and type in CATCHME.
GTA 5 cheat codes and all the stuff they can give you
Cheat codes in GTA 5 break down neatly into three main categories: health/armor/weapons type cheats, cheats that allow you to control the environment and cheats to spawn vehicles.
Fast Run is one example of a health/armor/weapons cheat. Another example is 1-999-72-654-5537 (PAIN KILLER), which grants Invincibility for five minutes.
1-999-625-348-7246 (MAKE IT RAIN) is a prime example of an environment control cheat. This phone number or console command allows you to cycle through different kinds of weather to create sunny or cloudy days, massive thunder storms and snow. 
Vehicle cheats can unlock a bunch of really cool rides, like the Buzzard attack chopper — just dial 1-999-289-9633 (BUZZ OFF). Summon a stretch limo with 1-999-846-39663 (VINEWOOD). Some vehicles like the Kraken submarine, 1-999-282-2537 (BUBBLES), require completion of a game event or challenge before the phone number cheat can be used.
There are no money cheats in GTA 5. If you want money you either have to earn it the old-fashioned way by completing missions, or you can spend real world money to buy Shark Cards, which deposit money into your GTA Online bank account.
More video game tips and tricks
This is the time of year for new game releases, so there are a lot of tips and tricks to pass around. Check out Mic's guide for the new Christmas game mode in Overwatch, how to check IVs in Pokémon Sun and Moon, the best gym attackers in Pokémon Go and how to get the Sturdy Helixhorn in Final Fantasy 15.