A new Ticket Bots law means you might finally get those 'Hamilton' Broadway tickets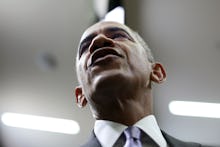 Thanks to the Better Online Ticket Sales Act, which President Barack Obama signed into law on Thursday, you might actually have a shot at Hamilton tickets. Per a White House press release, the BOTS Act of 2016, will "prohibit the circumvention of control measures used by internet ticket sellers to ensure equitable consumer access to tickets for certain events." 
According to Entertainment Weekly, ticket scalpers deploy bots to swiftly grab in-demand concert tickets, then they re-sell them through secondary markets at hugely inflated prices. Ticketmaster claimed bots purchased more than 60% of sought-after tickets at some shows and, in a lawsuit, accused one set of scalpers of buying upwards of 200,000 tickets a day, the New York Times reported in 2013.
Democratic Sen. Chuck Schumer of New York, one of the BOTS Act's cosponsors, said in a statement earlier this month: "By eliminating 'bots' and slapping hackers with a hefty fine, we can better ensure those who want to attend shows in the future will not have to pay outrageous, unfair prices." 
Earlier this year, Schumer partnered with Hamilton creator Lin-Manuel Miranda to bring attention to cyber scalpers.
Miranda wrote in a June 7 New York Times op-ed, "Stop the Bots From Killing Broadway," that his biggest regret concerning Hamilton is that more people cannot see the musical — not only because of the demand for theater seats but because of bots that "gobble up as many hot tickets as possible" before re-selling them.
In July, the New York Times reported scalpers amassed more than $15.5 million from tickets to Miranda's final 100 performances as the star of Hamilton.