Margaret Cho felt like a "house Asian" when Tilda Swinton called her about 'Dr. Strange'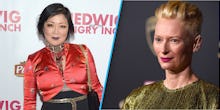 Here's what it's like to be someone's "Asian friend." 
While appearing on comedian Bobby Lee's podcast Tiger Belly, actress and comedian Margaret Cho said Tilda Swinton asked her why it was so controversial that Swinton was cast as Tibetan comic-book character "the Ancient One" in Marvel's Doctor Strange, according to Vulture.
Cho said the two had a long fight about whether Swinton should've been cast in the part, with Cho feeling the part shouldn't have gone to her. 
"It was weird because I felt like a house Asian, like I'm her servant," Cho said of the conversation. Cho said she felt like a "house servant who was [Swinton's] confidante." 
She added, "That's sort of what I felt like, like I was following her with an umbrella. I had a weird feeling about the entire exchange." 
Cho added that Swinton asked her not to tell anyone about the conversation. It ended with Swinton saying she was producing a movie starring Asian actor Steven Yeun. Swinton was likely referencing her upcoming film Okja.
News of Swinton's casting, as well as news that Scarlett Johansson was cast as a Japanese protagonist in Ghost in the Shell, prompted a media conversation about racism against Asian actors in Hollywood. In Ghost in the Shell, movie executives reportedly tested CGI technology to make Johansson have more traditional Asian features, rather than cast an Asian actress.
Actors like Cho and Fresh Off the Boat actress Constance Wu have been vocal supporters of greater opportunities for Asian talent both on- and off-screen. During his Emmy acceptance speech, Master of None creator Alan Yang echoed that call. 
Swinton excused the whitewashing of her Dr. Strange role by saying the character, who is Tibetan in the original comics, is "not actually an Asian character." Marvel later confirmed the character was changed to have Celtic ancestry for the film.
Of course, the number one solution to all of these problems is right under Hollywood's nose: All they have to do is cast one of the 18 million Asian Americans currently living in the United States.
Mic reached out to Swinton's representatives for comment but has not yet heard back.