61 Christmas movies to watch for free on TV Saturday, Dec. 17 and Sunday, Dec. 18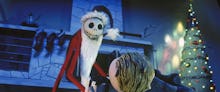 Stick to the couch and avoid the last-minute holiday rush this weekend. With Christmas quickly approaching, many TV networks — like Freeform, Hallmark and AMC —  are cramming special holiday programming in for your binge-watching pleasure.
Over 60 Christmas movies are airing this weekend, starting Saturday, Dec. 17 and running all day on Sunday, Dec. 18. So, unless you're a cord-cutter, there is plenty of free holiday entertainment to consume your day. Check out the schedule below. All times are Eastern.
Saturday, Dec. 17
6 a.m. — A Boyfriend for Christmas on Hallmark
7 a.m. — Rudolph's Shiny New Year on Freeform
8 a.m. — Nestor the Long-Eared Christmas Donkey on Freeform
8 a.m. — Hats Off to Christmas! on Hallmark
8:30 a.m. — Jingle All The Way on Freeform
10 a.m. — Matchmaker Santa on Hallmark
Noon — A Christmas Detour on Hallmark
Noon — A Snow Globe Christmas on Lifetime
1 p.m. — The Nightmare Before Christmas on Freeform
2 p.m. — Christmas Under Wraps on Hallmark
2 p.m. — All She Wants for Christmas on Lifetime
2:35 p.m. — The Polar Express on Freeform
3 p.m. — A Very Harold & Kumar Christmas on FX
4 p.m. — Christmas Cookies on Hallmark
4 p.m. — All About Christmas Eve on Lifetime
4:40 p.m. — National Lampoon's Christmas Vacation on Freeform
5:30 p.m. — Santa Claus: The Movie on AMC
6 p.m. — Love You Like Christmas on Hallmark
6 p.m. — The Christmas Gift on Lifetime
6 p.m. — Tyler Perry's A Madea Christmas on USA
6:50 p.m. — The Santa Clause on Freeform
7:20 p.m. — Love Actually on Bravo
8 p.m. — A Christmas Carol on AMC
8 p.m. — My Christmas Love on Hallmark
8 p.m. — Christmas With the Kranks on Lifetime
10 p.m. — My Christmas Dream on Hallmark 
10:02 p.m. — Becoming Santa on Lifetime
10:25 p.m. — Love Actually on Bravo
10:30 p.m. — White Christmas on AMC
Sunday, Dec. 18
6 a.m. — Northpole on Hallmark
8 a.m. — Looks Like Christmas on Hallmark
8:30 a.m. — Curious George: A Very Monkey Christmas on PBS
9 a.m. — A Christmas Carol on TCM 
9:30 a.m. — Richie Rich's Christmas Wish on Freeform
10 a.m. — Ice Sculpture Christmas on Hallmark
10:30 a.m. — Santa Claus on AMC
11 a.m. — The Road to Christmas on Lifetime
11:30 a.m. — Mickey's Christmas Carol on Freeform
Noon — The Nightmare Before Christmas on Freeform
Noon — Every Christmas Has a Story on Hallmark
1:00 p.m. — A Christmas Carol on AMC
1 p.m. — Crazy for Christmas on Lifetime
1 p.m. — Dr. Seuss' How the Grinch Stole Christmas on Cartoon Network
2 p.m. — My Christmas Love on Hallmark
4 p.m. — A Dream of Christmas on Hallmark
4:10 p.m. — Disney Prep & Landing on Freeform
4:40 p.m. — Prep & Landing: Naughty vs. Nice on Freeform
5 p.m. — Last Chance for Christmas on Lifetime
5:10 p.m. — The Santa Clause on Freeform
6 p.m. — Four Christmases on AMC
6 p.m. — Christmas in Homestead on Hallmark
7 p.m. — Black Nativity on BET
7 p.m. — The Spirit of Christmas on Lifetime
8 p.m. — Home Alone 2: Lost in New York on AMC
8 p.m. — Scrooge on TCM
8 p.m. — Sleigh Bells Ring on Hallmark
9 p.m. — Jack Frost on Disney XD
9 p.m. — Wish Upon Christmas on Lifetime
9:50 p.m. — Elf on Freeform
10 p.m. — Christmas List on Hallmark
10:30 p.m. — Home Alone 2: Lost in New York on AMC