These are the 15 top-paying jobs for women in the United States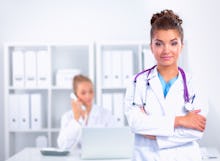 Women trying to earn a living in the United States face some big obstacles, including making less money than men and — even at the top of their game — pressing up against glass ceilings.
Lists of jobs that earn bank for both men and women don't always account for gender bias, or the fact women are sometimes penalized for seeking jobs with greater flexibility or work-life balance over the course of their careers.
For this reason, Mic has ranked the U.S. jobs with the highest weekly wages for women using 2015 pay figures from the Bureau of Labor Statistics, the most recent data available. Mic's list also shows the gender wage gap between men and women and how big a share of workers are female in each position.
Alas, lucrative professions like physicians or surgeons have big gender pay gaps: Women in these jobs tend to earn about 20% less than men.
Other top-paying jobs, like nurse practitioner, are dominated by female workers — the field consists of 90% women. But women are underrepresented in industries like software development, where female workers make up only about 18% of the workforce. 
In fact, the job on the list with the lowest wage gap has the smallest representation of women: Women comprise only 14% of engineers, but female engineers earn 94% of their what male peers make. Not equal — but close.
Here are the best jobs for women who want a big payday.
15. Educational administrator
Median weekly earnings: $1,252
The majority of education administrators are women — and yet women earn just 79% of what their male peers do.
These employees may oversee student life, academics, research and faculty at colleges and universities, high schools, elementary schools and other educational institutions — and usually have advanced degrees themselves.
14. Computer systems analyst
Median weekly earnings: $1,256
The job of a computer systems analyst is stay on top of information technology and its costs for an organization. These workers investigate a company's computer systems and technology procedures and create solutions to help the organization operate more efficiently.
A college degree is usually required, although some analysts with specialized computer training are hired.
Women are underrepresented as analysts and earn about 14% less than their male peers, but there is ample room for more women in the field, which is projected to grow 21% by 2024.
13. Marketing and sales manager
Median weekly earnings: $1,258
Marketing managers establish and direct marketing programs and determine the demand for a company's products or services.
Women in this job earn a good deal of money — $1,258 weekly or about $65,000 a year. However, men with this profession earn a median income of $1,603 a week or about $83,000 a year, an additional $18,000 annually.
12. Human resources manager
Median weekly earnings: $1,274
Human resources management is another traditionally female profession, with 73% of workers being female. On average, those women earn just 85% of what their male colleagues make.
HR managers plan, coordinate and lead an organization's administrative activities. They may be responsible for talent acquisition, interviews and hiring new staff as well as working with top leadership about the vision for the company and its employees.
Though a college degree is usually required for HR manager positions, some companies look for advanced degrees as well.
11. Computer programmer
Median weekly earnings: $1,302
Only 21% of computer programmers are women, but they earn 87% of what their male coworkers earn — which is better than the average gender pay gap of 80%.
Computer programmers create and test the code that makes software run. Most programmers need a college degree, although some companies may hire those without, particularly if they have specialized training and knowledge of particular programming languages.
10. Operations research analyst
Median weekly earnings: $1,325
About half of operations research analysts are women who earn around 84% of what their male coworkers earn.
Operations research analysts rely on mathematical and analytical methods to help companies or organizations solving complex business problems. The analysts research challenges and work to solve problems.
This job is expected to grow 30% by 2024 — faster than average hiring growth, making it a reliable industry relatively safe from automation.
9. Management analyst
Median weekly earnings: $1,348
Just under half of all management analysts are women who earn 11% less than their male colleagues.
Often referred to as management consultants, these analysts work with an organization's leadership to improve efficiency.
The field is projected to see higher-than-average growth of 14% growth between 2014 and 2024.
8. Software developer, applications and systems software
Median weekly earnings: $1,415
The relatively low number of women in tech industries is a well-known problem. Only 18% of software developers are women and they earn 81% of their male coworkers' pay.
Software developers design computer programs; they might create the applications that enable a person to interact with a program on a computer or device, or build the foundational systems that make devices work.
The number of software developers is expected to rise by 17% between 2014 and 2024, much faster than average.
7. Engineer
Median weekly earnings: $1,448
There are fewer women working in engineering than any other job on Mic's list, but this job also boasts the smallest wage gap between men and women: Female engineers make 94% of their male coworkers' salaries.
There are as many different kinds of engineers as there are fields of science, but generally, engineers use the tools of a particular body of science to explore a challenge or problem and develop applied solutions.
6. Nurse practitioner
Median weekly earnings: $1,522
The BLS report failed to provide men's earnings for this field, so Mic is unable to calculate the wage gap.
Nurse practitioners, 90% of whom are women, also made Mic's 12 fastest-growing U.S. jobs list, with growth projected at 35% between 2014 and 2024.
Nurse practitioners are primary health-care providers and often specialize in a particular population such as the elderly, children or people with mental illness.
This health-care role serves much the same function as doctors, but the educational requirements are less. A nurse practitioner must earn a master's degree, pass a national certification exam and earn licensing in their state. 
5. Physician and surgeon
Median weekly earnings: $1,533
Women make up 38% of physicians and surgeons and earn 20% less than their male peers. The gender pay gap for doctors and surgeons — and the additional education and residencies required — might be one reason women are attracted to the field of nurse practitioner.
Still, working as a physician or surgeon comes with increasing opportunity, as the field is expected to grow by 17% through 2024 — and some sub-specialities might grow even faster, as baby boomers age and medical technology enhances and lengthens people's lives.
4. Computer and information systems manager
Median weekly earnings: $1,563
Female computer and information systems mangers earn 86% compared to men and are underrepresented in the field — just 27% of individuals in this role are women.
But these managers have very high earning potential, as they lead and coordinate computer-related decisions across an organization or company.
Automation may make more of our working world rely on computers, but the human manager of the systems will increasingly in demand. The projected growth for the field is a greater-than-average 15% between 2014 and 2024.
3. Lawyer
Median weekly earnings: $1,717
Women represent about 37% of lawyers and earn 90% of what their male counterparts are paid, which is on the higher end of pay parity. 
Even with the cost and time requirements of law school, the earnings for women can be very favorable. While the projection for job growth is an average 6%, the industry is expecting some breakdown as clients look for more cost-effective legal services. As a result, some of the highest-paying positions will become even more competitive, and many positions will pay less.
2. Pharmacist
Median weekly earnings: $1,811
Pharmacists are some of the highest-paid workers in the country. Given the educational requirements, pharmacy may be a wise choice for women who wish to earn more.
Right now, slightly more than half of pharmacists are women and they make 86% of what their male counterparts earn.
The field is projected to grow just 3% by 2024, which is slower than average. As the number of pharmacists increase, there is greater competition for the highest-paying jobs. Those entering the profession after completing a residency program may improve their job prospects. 
1. Chief executive
Median weekly earnings: $1,836
Although just 27% of all CEOs are women, chief executives have the highest earning potential of any occupation for women.
An organization's chief executive leads the company based on guidelines established by a board of directors or similar group. Working at the highest levels of management, CEOs move a company with their vision.
The pay may be high, but so is the competition — and breaking out of the pack may be the most lucrative thing women can do. Today's female CEOs make only 82% of what male CEOs bring home.