The 7 best iOS puzzle games you can play without Wi-Fi or data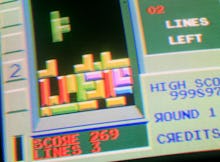 As tech improves and developers get more ambitious, mobile games tend to emphasize engagement with other users. It can be an entertaining experience — except for when you head into the subway or a remote location. 
In these situations, consider a call back to the good ol' days: puzzle games. Many of them don't require Wi-Fi or even a cellular connection, and some you can play with one hand — perfect for anyone keeping their balance by holding onto a steel bar. 
Here are some of the best puzzle games for your commute.
Kill some time with this simple but addictive puzzle that requires players to connect matching color dots without overlapping paths. 
A certified classic that no longer requires a pen and newspaper. This Finger Arts version also adds a "smart point system" that values your score based off of varying multipliers. 
Remember 2048? You'll be surprised at how fun this minimal numbers game can be. Swipe the tiles to reach the titular number in the least amount of turns for a new high score. It helps if you're good at math.
Give your thumb a workout with this invigorating app. Detonate as many gems as you can in 60 seconds, and watch your scores rise. It's visually stimulating and action-packed.
Perhaps the most famous puzzle of them all — the New York Times crossword — is available in digital form just as it is printed in the daily newspaper. It's a great way to wake up your sleepy brain in the a.m.
One of the prettiest games around, and not just in the realm of puzzles. Use your two dots — Emily and Jack — and navigate through varying climates by connecting the pair together depending on the level. Beautifully minimalistic with over 900 free levels.
Check out the modern update of this iconic arcade puzzle game. It's essentially the same experience, but with a two-minute timer and collection of power-ups that can be used to increase your odds of making it to the next level.