Gifts under $100 for every type of person you know — even the difficult to shop for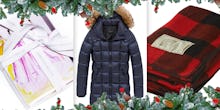 Expensive gifts aren't synonymous with well-received gifts. In fact, there are some pretty gaudy things that cost far more than the items in this under $100 list. We're all about practicality in use and versatility in function when it comes to gifts, and this holiday season there are some pretty cool options.
From triple-distilled tequila to high fashion stationery, there's something under $100 for everyone in your life. We have a youthful fragrance best suited for teens, a cotton robe for grown folks to relax and a blanket for a touch of rugged at home or on a camping trip.
If you found our boots list helpful, check out what we found for under $100.
Editor's note: Prices and product availability are subject to change throughout the holidays.
Milagro Select Barrel Reserve Reposado: $53.99
This tequila comes from Mexican agave that's been cooked and distilled three times over. Fermented in oak casks, the liquor is rich in flavor and not for the lightweight drinker.
Prada Candy Florale: $98
We don't know a lot of people who wouldn't want something from Prada this holiday season. The French brand makes a lot of goodies but their sweet Candy Florale fragrance has bold notes of caramel and white musk perfect for a youthful spirit.
Dylanlex Choker: $99
Buy this choker for the Beyoncé stan who recognizes this brand from her Lemonade short film. Intricately designed with jewels on its half-moon base, this choker can be worn with anything to make the look more edgy.
Cuyana Turkish Cotton Robe: $95
You don't have to go to a luxury hotel to get the same experience in your home. This cotton-bamboo woven robe is lightweight, quick to dry and a lovely gift idea for every hardworking adult you know.
Whimsy and Row Gift Box: $50
For your bohemian salt-of-the-earth friend, Whimsy and Row has a great gift. Their $50 gift box includes loose tea, a ceramic tumbler and a California-made soy candle that comes in two woody scents.
Christian Siriano Sketch Gift Card Set of Six: $45
Good stationery is clutch for the recent college graduate sending '"Thank You" notes to potential employers. Womenswear designer Christian Siriano has this stylish set of 5-by-7 cards printed in a watercolor design.
Marc New York Maddy Coat: $69
This down-filled puffer coat from Marc New York will give guaranteed insulation in these bone-chillingly cold months. Lab-certified to keep you warm up to -12 degrees Fahrenheit, it's also water repellent.
Morrisday The Label Alice Mini Dress in Red: $65.73
Help your bestie be obscenely well-prepared for festival season months ahead of time with this carefree dress from Morrisday The Label. The dress is inspired by the 1970s and has a beautiful lace overlay stitched atop of its pleated skirt.
Woolrich Rough Rider Wool Blanket: $95
Nothing says great American outdoors like a super-cozy plaid Woolrich blanket. This one, like all their other wool goods, is woven in their Woolrich, Pennsylvania, mill.
Eleni's Patterned Dreidels Tin: $95
For a family gathering or intimate holiday party, gift the host a sweet treat. Kosher, nut free and made with pure butter, whole eggs and flavored vanilla, these cookies from Dean & Deluca are shaped like dreidels and printed with a Mediterranean-inspired design.
This month, Mic Essentials brings you handpicked deals, reviews, recommendations and gift ideas. For more ideas, see our lists for Men's Grooming, Shoes, Health Nuts and Feminist. If you buy something through a link on this page, Mic may earn a small commission.