10 stylish phone cases from Perch, Lilly Pulitzer, Spigen and more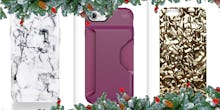 When looking for a tech-related gift for the holiday, we highly suggest a unique phone case. Why? They're a great way to flex one's personal style and distinguish their iPhone from everyone else's. Phone cases —if made well— protect the phone from breaking when dropped. But they also allow for versatility in style, being interchangeable.
While the sales representatives at your local wireless provider will push their expensive in-store options, we have some good news. Better phone cases await just outside those doors. Designers, digital accessory stores and even leather goods brands have gone into the phone case business— making options for everyone.
If you enjoyed our under $100 options, you're going to appreciate these ten phones cases for holiday 2016.
Rebecca Minkoff Glow Selfie Case for iPhone 7: $60
This rose gold phone case has been upgraded with glow light technology. Its GE lighting around the front edge makes for the perfect selfie day or night.
Lilly Pulitzer iPhone 7 Classic Cover in Southern Charm: $34
The signature style of this brand is a cross between southern debutante and Nantucket vacationer, and this phone case is the perfect example of the mix. Its floral pink design is feminine yet sturdy, made from thermoplastic polyurethane.
Mon Purse Grainy Leather iPhone 6 Case: $45
An monogrammed leather phone case is probably the most personalized way to sport your phone. In a pebbled leather, this case also comes in ten other colors.
Perch Cherry and Black iPhone Case: $34
Inspired by hand-crafted furniture, this phone case is actually made with solid American timber. Sleek and smooth to the touch, it's a beautiful gift for the person who appreciates home decor.
Kyte & Key The Alex in Black: $129
Your scatterbrain friend (don't let them know you call them this) has no excuse to lose their phone if gifted this. Braided leather creates this strap phone case that has two pockets for cards.
Rebecca Minkoff Marble Prince Case for iPhone 7 Plus: $35
The small flakes of silver truly make this phone look like a marble table. For the friend who takes flat-lay photography, this case is a great addition for their work.
Spigen Slim Armor CS iPhone 7 Plus Case: $16.99
Slim and shock-absorbent, we'd think twice about buying a case from your cell phone provider's store before looking at this one. Like a trap door in a James Bond film, the case has a discrete two-card holder in its back.
Ivyrevel Crystal Phone Case: $19.90
Something about this melted gold-looking case is high art to the eye. Made for iPhone 6 and 6S, its design is refreshingly different and boldly artistic.
Presidio Wallet iPhone 7 Case: $31.46
This phone case holds up to three cards and cash in its slim frame. Think of it as a wallet and phone protection in one. Despite its thin body, it also has two layers to absorb the shock of hitting the ground.
Wild and Woolly Vincennes Phone Case: $385
Ok. Yes, this is an expensive case but we can vouch for this. Not only is it made by one of New York's up-and-coming tech accessory designers, it's also handmade to order with free-range European-sourced fur.
This month, Mic Essentials brings you handpicked deals, reviews, recommendations and gift ideas. For more ideas, see our lists for Men's Grooming, Boots, Headphones and Feminist. If you buy something through a link on this page, Mic may earn a small commission.