Man running for state legislature says he won't patronize businesses that employ Muslims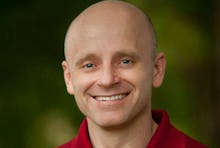 Michael "Duke" Lowrie, a firefighter and paramedic, is a Republican running for the Louisiana House of Representatives. He also believes that the United States should boycott businesses owned by or employing Muslims, according to a report in the Shreveport Times. 
Lowrie announced his decision to seek election on Thursday, and by Friday afternoon, he was answering for a 2015 Facebook post in which he said that he did not intend to patronize businesses that had anything to do with Islam. 
His reason? The Islamic State group. 
"The fact is the Islamist seek to kill us and make us submit to their false religion and God," he wrote in a Facebook post from Nov. 15, 2015. "There are many who worship, if you call it that, Islam here among us. I do not believe they deserve peace of our culture or the continued fruits of our society while following this religion. I for one will no longer knowingly go to or do business with any establishment that has someone who I know is a follower of Islam working there." 
Lowrie stood by the post in a statement to the Times. 
"We are a Christian nation," he said. "The threat of Islamic terrorism is real. Too many times, politicians are sometimes so afraid to speak the truth because of the PC culture in which we live. I'll call it how I see it. We must tackle Islamic extremism head on. I believe President Trump will do that."
According to the Times, Lowrie is so far the only candidate registered to run for the House seat he is seeking on March 25. 
Unfortunately, Lowrie's misgivings about Islam are increasingly common. In November, the Council of American Islamic Relations Chicago chapter received a threatening anonymous letter saying "Islam is to be feared and resisted." In many ways, as Mic's Samhita Mukhopadhyay wrote in September, Islamophobia in the United States has grown far worse now than it was in the days after 9/11. 
Lowrie did not immediately respond to a request for comment from Mic.