Gov. Pat McCrory signs GOP-backed law to strip Democratic successor of powers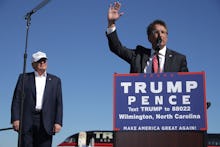 Outgoing Republican North Carolina Gov. Pat McCrory signed into law on Friday GOP proposals to strip the Democrat who just won the Nov. 8 gubernatorial election, Roy Cooper, of many of his powers.
After losing one of the closest elections in years, McCrory refused to concede, instead proposing massive voter fraud throughout North Carolina was behind his defeat. (It wasn't, and it didn't work.) But now it would seem congressional Republicans have turned to stopping Cooper by new means beyond the ballot box.
The bill introduces numerous restrictions on Cooper's authority, including stripping his control of election boards, requiring senate approval of cabinet picks, ending his ability to appoint trustees to the state university system and forcing Cooper to keep on hundreds of McCrory's appointees. Republicans introduced the measures during a surprise session attended by hundreds of demonstrators, who called the move a blatant power grab intended to defy the will of voters.
According to NBC, the bill "also makes elections for appellate court judgeships partisan by requiring candidates to be listed on the ballot alongside their political party."
Officially, Republicans called the surprise session to approve a $201-million aid package for Hurricane Matthew victims, NBC added, but later proposed and approved the new restrictions. Cooper, in turn, has proposed to turn to the courts to protect the power of his future administration.
"This is one of the greatest coups we've seen in modern-day America," House Democratic Leader Larry Hall said, according to the New York Times. "This is an effort to nullify the clear vote of the people."
"I think they're doing this because they think they can get away with it," University of North Carolina constitutional law professor Michael Gerhardt added.
McCrory's administration was rocked by myriad controversies, including his support of a transphobic law restricting the right of trans people to use bathrooms according to their gender identity to a voter ID law thrown out by the courts on accusation of racial bias. But this latest move aims to ensure his successor will have limited power to chart a different course for the state, despite his clear victory in the elections.
Some observers warned this unusual tactic could be a prelude to Republicans, including Republican President-elect Donald Trump, adopting it elsewhere.
"In effect, the Republican leadership aimed to secure unprecedented unilateral control over the state of North Carolina," Prince University Department of African American Studies chair Eddie S. Glaude, Jr., wrote in Time, later noting, "I suspect that if Trump doesn't get his way, he will try, as the Republicans in North Carolina are doing, to flout democratic norms — to throw democracy into the trash bin."