Dr. Henry Heimlich, inventor of Heimlich maneuver, dies at 96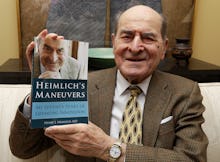 Dr. Henry J. Heimlich, inventor of the "Heimlich maneuver" choking intervention technique, died on Saturday at Cincinnati, Ohio's Christ Hospital after suffering a heart attack, the Guardian wrote. He was 96.
In 1974, Heimlich first published his eponymous lifesaving technique involving abdominal thrusts to dislodge windpipe obstructions (also known as "subdiaphragmatic pressure") that is believed to have saved thousands of lives worldwide.
He also invented a chest drain valve widely used in emergency rooms and by soldiers in the Vietnam War, and in 1955 "gained notoriety with an operation that replaces a patient's severely damaged esophagus or one that has been removed," WCPO wrote. "The procedure crafts part of the stomach into a new organ." (In 2003, the Cincinnati Enquirer reported on a dispute over the origins of the esophageal surgery, which a Romanian doctor named Dan Gavriliu said he invented prior to Heimlich.)
While Heimlich became famous worldwide through the anti-choking maneuver, he drew controversy over his advocation of its use in saving drowning victims — a view the American Heart Association does not share — as well as his role in human experiments in China.
The Cincinnati Enquirer wrote in 2003 that Heimlich's experiments, which involved infecting HIV/AIDS patients with malarial parasites to attempt to destroy the HIV infection via fever, "have been criticized by the Centers for Disease Control and the Food and Drug Administration and condemned by other health professionals and human rights advocates as a medical 'atrocity.'"
"I'll be the first to admit that a number of my ideas are controversial and in some ways unorthodox," Heimlich said, according to the Guardian. "But I have enough guts to know that when I am right, it will come about as the thing to do, even if others do the wrong thing for a time."
Earlier this year, Heimlich reportedly saved the life of 87-year-old Patty Gill Ris, who was choking on a meal at the Dupree House assisted living facility. Heimlich quickly and successfully performed the Heimlich maneuver, possibly saving Ris' life. A BBC report from 2003 noted Heimlich may have personally used the technique at least one time prior, in 2000.
Feb. 1, 2017, 2:07 p.m.: This article has been updated.