University of Minnesota football team ends boycott after reading sexual assault report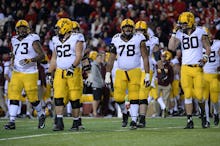 After 10 of its players were accused of sexual assault, the football team at the University of Minnesota resolved to boycott the upcoming Holiday Bowl against Washington State. Then they read the 80-page report detailing the allegations and reconsidered. 
On Saturday, the team's senior leadership decided that the new information "changed the narrative," the Minneapolis Star Tribune reported. The Gophers will now face off against Washington State on Dec. 27 as scheduled.
"As a team, we understand that what has occurred these past few days, and playing football for the University of Minnesota, is larger than just us," Drew Wolitarsky, a senior and the team's chosen spokesperson, said Saturday morning. He announced an end to the boycott after the players held an early-morning meeting to discuss the school's Equal Opportunity and Affirmative Action report, made public on Friday.
Players met with University President Eric Kaler Friday night, apparently committed to standing with their teammates who are currently accused in connection with a Sept. 2 incident that followed the football season opener. A female student alleged she had consensual sex with one player, but was then forced into sex with others. Six players were involved in the incident, according to NBC, and it's "unclear" why the other four men had been implicated. 
All 10 players have been suspended, the Star Tribune reported, but some Gophers felt that Kaler and athletic director Mark Coyle needed to be more transparent about the motivations behind the suspension, thus the boycott. But the report, according to the Star Tribune, proved "game-changing." The players also received input from their parents, some of whom had read the EOAA report.
"Let me first state so there is no misperception: Sexual harassment and violence against women have no place on this campus, on our team, in our society and at no time is it ever condoned," Wolitarsky said Saturday, according to the Star Tribune. "There is only one acceptable way to treat all women and all men, and that is with the utmost respect at all times."