Republicans in Congress close yearlong Flint water crisis inquiry with no new findings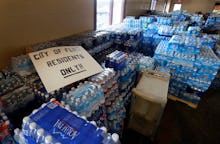 It has been over a year since Flint, Michigan, Mayor Karen Weaver declared a state of emergency over the city's poisonous water supply, and still that water remains undrinkable. Yet Republicans in Congress are ending their investigation into the water crisis, their yearlong effort yielding essentially nothing more than what we already knew, the Associated Press reported. 
"The committee found significant problems at Michigan's Department of Environmental Quality and unacceptable delays in the Environmental Protection Agency's response to the crisis," Republican Rep. Jason Chaffetz of Utah, chairman of the House Oversight and Government Reform Committee, wrote in a letter to Congressional colleagues on Friday. "The committee also found that the federal regulatory framework is so outdated that it sets up states to fail."
Which is to say, the government did not act as quickly as it needed to, neither in identifying the problem nor in addressing it. Chaffetz proposed that the EPA use hundreds of millions of dollars earmarked for combatting climate change to instead improve water pipes and other infrastructure across the country. 
Democrats in Congress are pushing back. According to the AP, Rep. Elijah Cummings of Maryland, the senior Democrat on the House oversight committee, responded to Chaffetz's letter and urged the committee to continue its investigation. He also implored Chaffetz to be firmer with Michigan Gov. Rick Snyder, alleging that the governor failed to hand over certain documents the committee had requested that might help illuminate just how much Snyder knew about the situation and when. Cummings suggested Snyder be given a 30-day deadline to supply the documents.
A spokesperson for Snyder's office denied accusations that the governor was being uncooperative or purposefully sitting on any crucial information, calling such suggestions "partisan political attacks from out-of-state politicians."
But the water crisis in Flint is now a national issue — one that prompted President Barack Obama to declare a state of emergency in January, and one that is about bringing people potable water, not partisan attacks. The crisis dates back to April 2014, when the city began sourcing its water from the Flint River as a cost-cutting measure. The water corroded pipes, causing lead to seep into the water supply. Tap water was brown, odorous and making people visibly ill. On Dec. 10, the U.S. Senate approved the allocation of $170 million to improve the city's water, but unfiltered water from a Flint tap remains unsafe to drink.
At present, two things seem likely: One, that Congress will not reopen its inquiry into Flint's drinking water; and two, if Congressional Republicans do put forward a proposal to reroute climate change funds for other uses, the incoming administration will probably not stand in their way. 
President-elect Donald Trump, oblivious or indifferent to scientific consensus on the matter, continues to express doubt about whether climate change is real and happening. To head up the EPA, he selected Oklahoma Attorney General Scott Pruitt, who touts himself as "a leading advocate against the EPA's activist agenda" and whose ties to the oil and gas industry have aligned him as a firm climate change doubter.
While spending money on providing the approximately 100,000 people who live in Flint with real solutions to the city's water crisis is a worthwhile pursuit, there is no apparent reason why better infrastructure and a better response to climate change have to be mutually exclusive.