Aleppo Update: Evacuations stalled after buses set on fire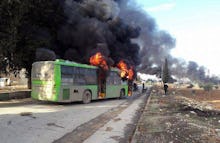 Evacuations of those trapped in eastern Aleppo stalled again on Sunday after buses were set on fire, CNN reported. 
Syrian state media attributes the attacks to rebel forces that targeted six buses rescuing civilians and wounded fighters from two nearby villages in the Idlib province, according to the BBC. The government had agreed to renewed evacuation of eastern Aleppo if people in Foah and Kefraya were allowed to leave, too. The compromise collapsed after the aid convoys burned.
Monther Etaky, an activist and opponent of Syrian President Bashar al-Assad's regime, tweeted footage from inside an Aleppo hospital, showing corridors lined with people awaiting evacuation. "Civilians are not negotiations tool[s]," he captioned the tweet.
The city of Aleppo fell to government-backed forces on Monday after a relentless battle. Russian airstrikes devastated buildings and infrastructure, while pro-Assad troops entered civilian homes and shot residents on-sight. The first ceasefire, which would have given aid organizations time to evacuate Aleppo, fell Wednesday but was executed Thursday, when 3,000 people were carried out of the city in buses and ambulances. The efforts of the Red Cross and the White Helmets were reportedly complicated by pro-regime forces shelling their convoys. 
The situation in Aleppo remains dire. Last week, a group of nearly 50 orphans trapped in the city issued a video plea for peace and asked to be rescued. Women are said to be committing suicide to escape being raped by government-backed troops. People are sleeping out in the open, exposed to the elements and freezing temperatures. 
Sunday's evacuation would've removed some 4,000 people from Kefraya and Foah, according to CNN. On Sunday, the U.N. Security Council discussed sending monitors to make sure the evacuations go as planned. The proposal came from France, which apparently made Russia reticent to accept it. The New York Times reported that the vote would take place Monday morning, and that it appeared officials had struck a compromise.