And the Merriam-Webster 2016 Word of the Year is... "surreal"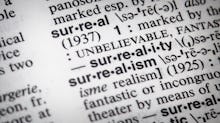 Merriam-Webster has chosen "surreal" as its 2016 word of the year and this feels extremely, unfortunately right. 
The choice fits neatly alongside Oxford Dictionaries' selection of "post-truth" and Dictionary.com's "xenophobia." Taken all together, they really paint a vivid picture of the past 12 months, don't they?
According to the company's website, "surreal" — defined by, of course, Merriam-Webster as "marked by the intense irrational reality of a dream" — beat out "bigly" and "deplorable," which were also among 2016's disproportionately popular word searches. In an explanatory video, Merriam-Webster editor-at-large Peter Sokolowski said that the dictionary has two types of "high-volume look-ups": perennial words, which people look up all the time, and words tied to news events, which show "spikes of interest." Merriam-Webster weeds out perennials, looking at how many times people looked up the interest-spiking words in 2016 versus 2015. 
"Our word of the year is one that people came back to over and over again in response to different events," Sokolowski said, "and it gives us a look at 2016 according to what sent us to the dictionary."
Surreal sent people flocking to the dictionary on four notable occasions this year, Sokolowski explained: When coordinated explosions across Brussels shook the Belgian capital in March; during July's violent coup in Turkey; after the terror attack launched on the Bastille Day celebration in Nice, France, and after former reality television star Donald Trump was elected president of the United States in November. 
Interestingly (or appropriately) enough, "fascism" very nearly topped Merriam-Webster's look-up charts. In late November, the dictionary issued an appeal to users to "look something else up" before it was too late. The intervention was apparently effective, but also, "surreal" seems to have won out because it was so applicable at so many points over the year. 
"Spikes of interest in a word are usually triggered by a single event, so what's truly remarkable this year about 'surreal' is that so many different stories led people to look it up," Sokolowski said in a statement, according to the Guardian. 
At least it's almost over.