Oprah's final Michelle Obama interview: Time, channel and how to watch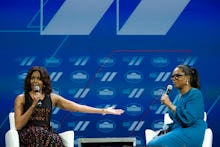 First lady Michelle Obama will give one of her final interviews in office this week, sitting down with television megastar Oprah Winfrey for a discussion on her life in the White House.
According to Variety, Obama will "speak to the first lady in the first family's private residence about life at 1600 Pennsylvania Avenue and her eight years as first lady of the United States, the legacy she'll leave behind and her plans for the future."
In preview clips from the interview, Obama addressed the biggest elephant in the room: the man who will succeed Barack Obama, GOP President-elect Donald Trump.
"I think that we feel the difference now," the first lady says. "See, now we're feeling what not having hope feels like. Hope is necessary. It's a necessary concept."
"What else do you have, if you don't have hope?" Obama continued. "What do you give your kids if you can't give them hope?"
First Lady Michelle Obama Says Farewell to the White House — an Oprah Winfrey Special will air on CBS at 8:00 p.m. Eastern on Monday, Dec. 19 (with an encore presentation on the OWN Network on Wednesday, Dec. 21 at 9:00 p.m. Eastern, according to Variety. All CBS programs are available to stream online using CBS' official CBS All Access service or by logging in through a TV provider on the CBS website, while clips from the interview will no doubt be available online shortly after it airs.