'America's Got Talent Holiday Spectacular': When and where to watch the NBC special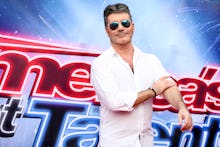 America's Got Talent, the popular variety show that captivates audiences with high-energy performances from ordinary people from across the nation, returns this week with a holiday special: America's Got Talent Holiday Spectacular.
The show, which airs on NBC Monday, Dec. 19 at 8 P.M. EST, will feature several popular acts that have dazzled audiences in recent years, including acrobatic stunts, musical acts and much more. 
And let's not forget about the judges: Heidi Klum, Howie Mandel, Simon Cowell and Mel B all return during the special. Host Nick Cannon will emcee the event, as well.
Season 11 winner Grace VanderWaal will return to sing with her ukulele, a performance that will likely bring smiles to all who tune in. VanderWaal is just 12 years old, but don't let her age fool you: She's definitely earned her place as champion, thanks to her electrifying run last season.
Also returning, according to the official NBC website, will be illusionists and season 11 runner-up the Clairvoyants; Brian Justin Crum; the Olate Dogs; season nine winner, magician Mat Franco; and season 5 runner-up, singer Jackie Evancho, who will also be performing at President-elect Donald Trump's inauguration. Fan favorites the Regurgitator — we don't need to explain his act much, do we? — and professional daredevil diver Professor Splash will also return, with the latter promising to dive into a pool full of eggnog. 
Other guest performers include magicians Penn and Teller, a capella musical group Pentatonix, and season 11 "golden buzzer" contestant Sal Valentinetti, who will perform a duet with judge Heidi Klum.