When will 'Twin Peaks' premiere? New Showtime trailer reveals cast member but not date.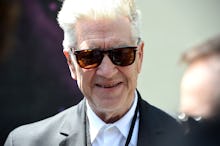 Throughout its initial run, one of the greatest joys of Twin Peaks was its occasional lightness; there was a sense of humor amidst all the surreal chaos that plagued the fictional Pacific Northwest town. A new promo for the rebooted series — airing on Showtime sometime in 2017 — reveals that, thankfully, co-creator David Lynch and company haven't sacrificed the show's goofiness.
Almost a year ago, on Dec. 18 2015, the first trailer was released for the drama series. It offers a sleepy montage of the Pacific Northwest landscape, and like this new promotional trailer, it doesn't really give many details on what's happening in Twin Peaks 25 years after we left off. Instead, what it does show is Lynch eating a frosted donut. 
New trailer for 'Twin Peaks'
When Twin Peaks aired on ABC back in the early '90s, Lynch made a couple of recurring appearances as FBI Regional Bureau Chief Gordon Cole. The character was a good-natured man who, like Dale Cooper (Kyle MacLachlan), was very much enamored with the good coffee and cherry pie special to the Double R Diner. Cole is also hard of hearing, and spends his time on the series yelling despite wearing wired hearing aids. 
In the promo, however, it looks like Cole has updated to modern times: While eating that donut in a nondescript location, he sports wireless hearing aids. He doesn't say anything — choosing to put all his energy into that donut — but it's the first real glimpse at one of the beloved characters from the original two seasons.
What else we know
In September, Lynch tweeted a short video that announced the return of Twin Peaks' composer Angelo Badalamenti. 
Badalamenti's addition came a few months after the official cast for the series was announced back in April. Kyle MacLachlan, Sheryl Lee, Sherilyn Fenn and Ray Wise make up some of the returning faces. New ones include Naomi Watts, Michael Cera, Monica Bellucci, Amanda Seyfried and Laura Dern. 
Besides knowing that the new series will take place 25 years after the original, plot details have been kept short. Nevertheless, an abstract in series co-creator Mark Frost's recent book, The Secret History of Twin Peaks, gives us some more details from the Showtime revival.
Twenty-five years [after Dale Cooper's investigation of the murder of Laura Palmer], the FBI gets a hold of a box it won't divulge the provenance of. In the box, a huge dossier...
Lynch will not only return as Cole. He's also slated to direct all 18 episodes of the new season. While it is frustrating not knowing much else, a short clip of Lynch eating a donut is better than nothing.