Watch The Weeknd and Kendrick Lamar perform "Sidewalks" live in intimate LA venue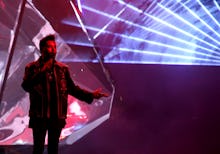 The Weeknd's Starboy World Tour doesn't kick off until February 2017, but the artist is already working to get the hype train moving. The arbiter of R&B's darkest impulses offered a taste of the star power fans can expect from the tour at a small Los Angeles gig Saturday night, bringing out Kendrick Lamar to perform their collaboration "Sidewalks." 
Lamar gave the audience a little tease, letting the pre-recorded version of the track play for a few bars before taking the stage to spit it himself. 
The crowd predictably lost their collective mind and got out their phones to record the moment for the rest of us unable to see it in the flesh.
One of the undeniable standouts off The Weeknd's uneven Starboy, "Sidewalks" offers the R&B star somewhat of a realization about Kendrick Lamar.
"He's a genius," The Weeknd told Zane Lowe in a Beats 1 Radio interview. "He did it there on the spot. He'd walk around, he'd play the record over and over again ... He was really committing; you could tell he really put his all into it. It wasn't just a random Kendrick Lamar verse. It was something special."
Watch their performance from another of the crowd's many angles.