'Passengers' Cast and Plot: Who's in it and what's it about?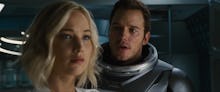 In addition to Rogue One and Assassin's Creed, Passengers is another giant blockbuster arriving this holiday season. The sci-fi film — hitting theaters nationwide on Dec. 21 — stars Oscar winner Jennifer Lawrence and Guardians of the Galaxy heartthrob Chris Pratt as romantic interests who meet aboard a spaceship called the Starship Avalon. 
Passengers, directed by Morten Tyldum, who was nominated for several Oscars in 2015 for directing The Imitation Game, not only boasts a stellar cast, but it also features a plot that's more sinister than it initially appears. 
The cast
Earlier this year, Lawrence spoke at CinemaCon and shared information about he character, Aurora Lane. She said:
My character is a writer in New York and she wants to be one of the first people to make the 120-year journey to another planet and come back and write about it. She's very ambitious.
On playing Jim, opposite of Lawrence, Pratt said:
Jim is a mechanic and he is the type of guy who fixes things. He uses his hands. But in the world we live in, when something breaks, you don't fix something, you buy a new one. So he's become obsolete and wants to travel to a distant planet, to a new world and distant future, hoping he'll be useful.
Besides Lawrence and Pratt, Passengers also stars Michael Sheen and Laurence Fishburne. Sheen, seen in the trailer, plays a robot who works aboard the ship. Fishburne portrays a man who wakes up from one of the pods later in the film.
The Plot
On the Passengers website, the synopsis reads:
Jennifer Lawrence and Chris Pratt star in an exciting action-thriller about two passengers who are on a 120-year journey to another planet when their hibernation pods wake them 90 years too early. Jim and Aurora are forced to unravel the mystery behind the malfunction as the ship teeters on the brink of collapse, with the lives of thousands of passengers in jeopardy.
The movie is set up with a romantic twist to it. Critics, however, have been pointing out the less romantic elements of the film.
In the early moments of Passengers, Chris Pratt's Jim is the only one who has woken up 90 years early — a detail emitted from the film's official synopsis. He stumbles upon Aurora's sleeping pod, and not wanting to be lonely, wakes her up. He does not consider that he's dooming her, or that this may not be what she wants. 
According to a review of Passengers in the Guardian, the story seems to be most focused on the romance between Jim and Aurora and not the sleazy circumstances surrounding it. "It tidies up the unpleasantness and sweeps it under the carpet as quickly as possible."