Danielle Brooks slams 'America's Next Top Model' for not having any plus-size contestants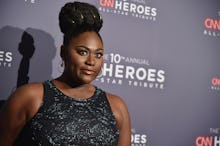 Orange Is the New Black actress Danielle Brooks is one of those women in Hollywood, like Melissa McCarthy and Rebel Wilson and Dascha Polanco and Leslie Jones and others, who isn't afraid to call out the fashion industry's complete and total ignorance toward women above a size 2 or 4. 
"We want to shop 'til we drop, be on trend, feel hot and sexy. We want to see ourselves in magazines — not as a quota, but on covers," Brooks wrote for Refinery29 in October. 
Last week, Brooks was at it again, this time calling out the reboot of America's Next Top Model, which doesn't have a single plus-size contestant, or even a model above a size 6 or 8, on the current season (despite having plus-size model Ashley Graham on the judging panel).
In an Instagram post, she explained exactly why this is so concerning. 
"A curvy judge but no curvy contestants?" Brooks wrote. "Out of all 28 girls not one was plus. You had an Asian, African, a redhead, transgender, an androgynous sister, even twins... (much love for that) but not 1 plus size woman — when 67% of women are plus in the US??"
It would have been a perfect platform and moment for plus-size women to shine, Brooks said. After all, the last time a plus-size model was truly successful on the show was season 10, with Whitney Thompson winning the title. ANTM is now on season 23. 
"This could've been a perfect opportunity for them to highlight fabulous designers that also do plus fashion or highlight strictly plus designers that rarely get any shine. They could've also highlighted the struggles that come with being plus," Brooks wrote. "The plus competitor would've been able to lean on the fact that a reflection of herself (Ashley Graham) was in the room reminding her that her dream IS possible." 
Even before the show debuted, Graham commented on the issue, noting that although no plus-size women made it on this season, she was hopeful for what could happen next cycle. 
"Unfortunately, it didn't happen for this round, but that's alright," Graham told E! News. "Hopefully for season two — I'm looking for the woman who wins to be plus size. I think it would be so epic."
And when Mic spoke with ANTM judge Law Roach for an interview before the premiere, he said that there's no plus-size contestants because they simply didn't find anyone up to their standards. 
"They just weren't the right fit," Roach said in December. "It's not like we were like 'Oh, we have to have the plus size girl.' Ashley Graham was disappointed about that, but if it doesn't happen organically and it's not authentic, then you're going to turn the viewer off." 
Still though, Brooks said having at least one plus-size model-in-the-making could have offered women the chance to see themselves in the show, and moved the body positivity movement forward. 
"We are worth these incredible opportunities," Brooks wrote. "We deserve to be seen. I'm going to continue to push back and speak up for that young girl that wants to model, wants to act, wants to be upfront and needs to be reminded that she is just as deserving as anyone else."
The only thing Brooks can hope for now is that next season, ANTM considers the fact that yes, more than half of American women are above a size 14, and they want to be seen just as much as anyone else.