9 of the biggest feminist wins of 2016, from Hillary Clinton to 'Lemonade'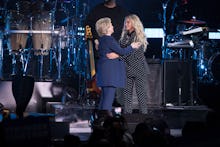 2016 has been a tough year for feminists. Well before the U.S. presidential election in November, the year presented no shortage of examples of the ways sexism is still alive and well in society, though that reality has been demonstrated best by Donald Trump's win. The specter of a commander-in-chief who has demeaned women, people of color, immigrants, Muslims, LGBTQ folks — and who has effectively admitted to committing sexual assault on tape — is enough to make almost anyone who believes in equality experience goosebumps, nausea and the urge to drink heavily.
There remains a (very) long road ahead to securing equality for people of all genders, races, nationalities, sexualities, abilities and classes — but there are plenty of examples of how far feminism has come this year. The movement has achieved what is arguably its most well-respected status in American society ever, and has become a dominant force in everything from politics to pop culture to the Olympic games. 
Hillary Clinton became the first female nominee on a major party presidential ticket.
No, Hillary Clinton did not win the election (and yes, sexism most definitely had something to do with it). But the former secretary of state made history with her nomination as the Democratic candidate for president — and she did so by promoting policies that would greatly improve the lives of some of the most marginalized groups in the U.S. Clinton's campaign included plans for paid family leave, an increased minimum wage, affordable health care and security for reproductive rights. She brought what once seemed like radical feminist policy ideals into the mainstream political dialogue. 
More women of color will serve in Congress than ever before.
The U.S. legislature has a ways to go in terms of gender equity in government, seeing as women still make up only about 20% of elected representatives in Congress. In 2016, however, that group of women got much more diverse: a record 38 women of color will serve in the 115th Congress. When they're sworn in next January, newly elected senators Kamala Harris (D-California), Catherine Cortez Masto (D-Nevada) and Tammy Duckworth (D-Illinois) will not only quadruple the number of women of color in the Senate; they'll also each make history. 
Harris will be the first Indian-American woman and second African-American woman to serve in the Senate; Masto will be the first Latina; and Duckworth the first Thai-American woman. Rep. Pramila Jayapal will be the first Indian-American woman to serve in the House of Representatives. 
The Supreme Court made a landmark ruling to protect abortion access. 
State legislatures have enacted a record number of abortion restrictions in recent years, but not all of them will fly. The Supreme Court made that quite clear in June, when the justices struck down portions of a Texas law that, if upheld, would have decimated access to reproductive health care across the state. 
The landmark ruling in Whole Women's Health v. Hellerstedt found two Texas requirements for abortion clinics — that they meet the standards of ambulatory surgical centers and that providers secure admitting privileges at nearby hospitals — unconstitutional, a decision that will preclude enforcement of similar laws in other states. In short, it was a huge win for abortion rights activists and a step toward ensuring reproductive justice in the future.  
Barack and Michelle Obama stood as leading feminist role models.
In a speech at the first United State of Women summit, headed by first lady Michelle Obama, the president said with a smile that while he "might be a little grayer than [he] was eight years ago, but this is what a feminist looks like" — and it wasn't the first or only time he publicly endorsed the movement. A few months later, the president reiterated that claim in a lengthy essay for Glamour elaborating on his belief in gender equality, but he's also walked the walk. 
As his presidency winds down, Obama has made a point of securing protections for reproductive rights, one of a few feminist moves he's made in 2016. Meanwhile, the first lady became the leading face of feminism for the Clinton campaign (not to mention the better angel of the nation's conscience): In October, she called out rape culture and Donald Trump's misogyny in one of the most stirring speeches in American political history.
Harriet Tubman is going on the $20 bill.
American currency has long been decorated with the faces of dead white guys. In 2016, the U.S. Treasury announced that's finally going to change: Escaped slave and abolitionist Harriet Tubman will take her place as the first woman to appear on the $20 bill, pushing genocidal President Andrew Jackson to the back. She'll be joined in circulation by suffragists who will appear on the backs of the $5 and $10 bills, affirming another important declaration of 2016: As Beyoncé put it, "best revenge is your paper."
The Knowles sisters' odes to black womanhood topped the charts. 
Speaking of Bey: This year the queen released Lemonade, her breakthrough homage to the strength and beauty of black women, and her most political album to date. Beyoncé got political in her performances as well, donning Black Panther-inspired costumes for her appearance at the 2016 Super Bowl and arranging her dancers in a Venus symbol at the MTV Video Music Awards. Ever the elder sister, she preceded her sister Solange in topping this year's music charts with an album by and for black people. Also securing a slew of critical accolades this year, Solange's A Seat at the Table is groundbreaking in its lyrical and visual assertions of black women's power, pride and grace, not to mention its explicit focus on elevating their voices. 
Lady Gaga performed with a choir of sexual assault survivors.
A tireless advocate for victims of sexual violence and a rape survivor herself, Lady Gaga was more outspoken than ever this year in her efforts to end rape culture. After the pop star co-wrote the gripping single "Til It Happens To You" for the documentary The Hunting Ground, a damning investigation of sexual assault on college campuses, she performed the single at the 2016 Oscars (and was introduced by none other than Vice President Joe Biden, who has spearheaded violence prevention efforts). Instead of standing alone, Gaga used the performance as a moment to stand in solidarity with 50 other survivors of sexual violence, giving faces to the often nameless victims of rape culture. 
Samantha Bee dominated late night comedy. 
After decades of a perpetual parade of dudes hosting late night TV, former Daily Show correspondent Samantha Bee landed her own hilarious show in 2016, and has used it as a platform for promoting feminism in a funny way. In an industry that has become known for not being super welcoming to women, Bee has managed to hire one of the most diverse writing teams in comedy, which has helped her do everything from make high-minded jokes about the president-elect to interview President Obama.
Women ruled the Olympics. 
There's not really a better way to put it: American women kicked ass at the 2016 Olympics in Rio de Janeiro. Simone Biles won four gold medals, securing her place as the "greatest gymnast of all time" at age 19; Ibtihaj Muhammad became the first U.S. woman to compete in a hijab, not to mention went home with a bronze medal; Simone Manuel became the first black woman to take home the gold for an individual swimming event, while fellow swimmer Katie Ledecky broke world records in the 400-meter and 800-meter freestyle. All were joined by other incredible women at the games, including Syrian refugee swimmer Yusra Mardini, who shined light on the global refugee crisis.