When will 'Shameless' season 8 premiere?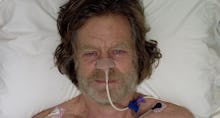 Season eight of Showtime's comedy-drama Shameless is very likely, though not officially confirmed. While Showtime has yet to renew the show, fans can look to a recent clue that shooting shall resume in May 2017.
Per TVLine, actress Emmy Rossum, who plays Fiona — the Gallagher family glue — has come to an agreement with the show's producers regarding her equal pay salary dispute. 
Rossum revealed the news on Twitter on Dec. 14:
Origins of the pay dispute
Rossum's dispute arose because of the pay discrepancy between her and her co-star William H. Macy, who plays her on-screen father, Frank Gallagher. Rossum's reps reportedly demanded that she be paid more than Macy to compensate for the previous seven seasons. The terms of Rossum's new deal were not disclosed to TVLine.
According to Deadline, Macy's longstanding career, including an Oscar nomination for Fargo in 1996, prompted his higher salary. 
When TMZ asked if Rossum should be paid as well as him, Macy said, "They wrote the Equal Rights Amendment in 1927. It didn't get passed by both houses of Congress until 1972. It still hasn't been approved by all the states, therefore it didn't make it as an amendment to the Constitution. It's about f-cking time, don't you think?" Macy was referring to the Equal Rights Amendment's only being ratified by 35 states — it needed 38 to become part of the Constitution.
He added, "She works as hard as I do. She deserves everything." He joked that the only advantage he has over her is that he is "better looking."
Where things ended
(Editor's Note: Spoilers for the season seven finale of Shameless below.)
The seventh season of Shameless ended on Dec. 18. As Entertainment Weekly summarized it, the finale, titled "Requiem for a Slut," featured Carl's return from military school, Sierra and Lip's reunion and Monica's funeral. 
At the funeral, Frank pops up to speak about the mother of his children just as everyone gets up to leave. He talks about how he met her and even claims responsibility for some of Monica's downfalls. However, he adds that Monica was "strong" and "brave." He tells his children, "Hate her if you want, but she's in you. And that's a good thing." 
Back at the Gallagher home, Lip tells Sierra he wants to go back to college, while Fiona and Ian have a heart-to-heart about Ian's relationship with Trevor and their parents' shocking love for each other. Fiona even dances with Frank.
A montage of the Gallagher clan moving on with their lives wraps up the finale. Debbie is taking a welding class; Lip and Brad go to an AA meeting; Fiona has the keys to her new apartment; and more. 
In season eight, fans will have to see how Ian fares at college, how Fiona copes with not mothering her younger siblings, and how Frank lives in a world knowing that Monica is gone forever.
An estimated air date
We may not have an official air date for season eight, but we can look to season seven to make an educated guess about when it may premiere. Season seven was renewed in January 2016, and Rossum tweeted the Oct. 2 air date in June. So going off of this timeline, we may hear about the official renewal in January 2017 and see season eight premiere as early as fall 2017. However, previous seasons premiered in January, so new episodes could come as late as January 2018.